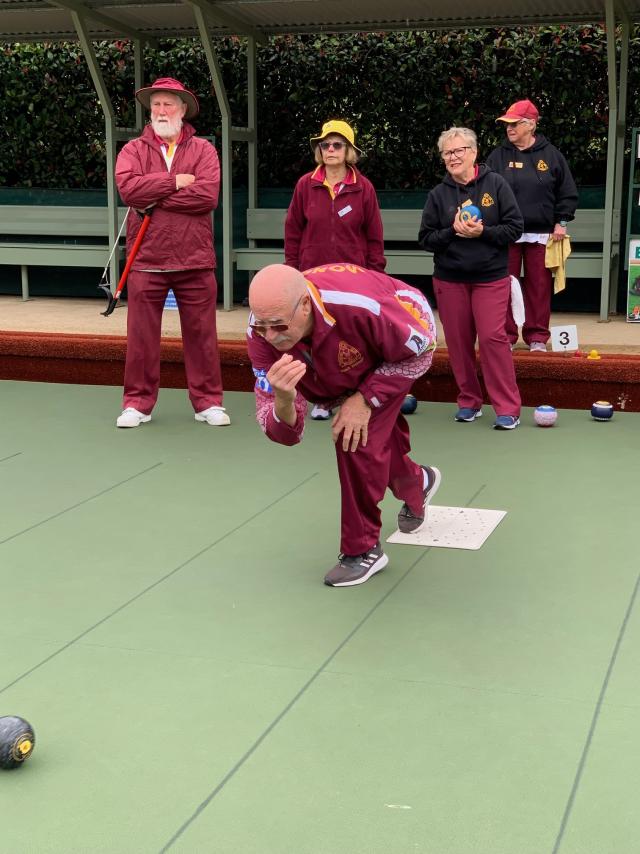 By Jack Rollings
It was a warm day for Saturday pennant, round five.
No jumpers needed, and no wind – a perfect day for bowling.
Monbulk 1 played away at Warburton.
Playing on the Warburton sand-filled synthetic grass has long been a challenge for Monbulk bowlers.
One side of each rink is so narrow, it's like your bowls have lost their bias – they travel almost straight down the rink.
The other side of the rinks is wide, completely different. In any case there were twenty-one ends played – that should have been enough to learn the conditions.
But Warburton remained too strong on their home turf and they gave the Monbulk visitors a hiding.
Brian Smith's team was under the pump all day.
They managed to crack into double figures by the end of the day, but along the way they gave away two three's, a four and two six's, and those clangers made more than the difference in the final score.
Monbulk lost the rink 13 shots to 33.
Jim Bras' team led throughout the front half but fell apart after the tea break, picking up only three singles for the rest of the game, while giving away two three's and two four's.
Once again it was those clangers that made all the difference. Monbulk lost the rink 12 shots to 17.
Tony French's team had a close game for the first two-thirds, with level scores and lead changes.
Then, with the end in sight, Warburton managed to string a few ends together and Monbulk couldn't get enough of the mat to peg them back. Monbulk lost the rink 18 shots 24.
Eric Markham's team trailed all day but was always in touch.
Going into the final end, Monbulk was just one shot down and the game was up for grabs.
It was an intense finish but Warburton managed to save the end and complete Monbulk's losing day.
Monbulk lost the rink 14 shots to 16.
Overall Monbulk 1 lost to Warburton 1 by 57 shots to 100, an old-fashioned thumping.
That loss drops Monbulk down to fourth place on the ladder.
Next week Monbulk has another away game, this time against Lilydale who are sitting on equal ladder points.
This promises to be a tight contest.
Monbulk 2 played at home against Ringwood 3.
Don Barnetson's team had a close game all day.
They won more ends but dropped a few big scores along the way.
With three ends to go, they trailed by a single shot.
And that's when Monbulk steadied and took the final wins, taking the rink 23 shots to 19.
Andy Smith's team led all day, dropping only nine ends for the day.
They did drop two five shot clangers but made those up with some multiples of their own.
Monbulk won the rink 23 shots to 17.
Case Broekhof's team led for most of the day and saw a lot more of the mat than Ringwood.
They picked up a lot of double scores and gave away only one clanger.
Monbulk won the rink 18 shots to 13.
Graeme Goller's team followed a similar pattern.
They won twelve ends, gave away two four-shot clangers, but picked up three three-shotters of their own.
Monbulk won the rink 21 shots to 16.
Overall, Monbulk 2 won the round 85 shots to 65, with all four rinks up.
On a tightly packed ladder, they are currently sitting third.
Next week Monbulk 2 will play Lilydale in another home game.
It would be a good round to consolidate that top four position.
Monbulk 3 played at home against Donvale 6 and it was a blinder of a day for the Monbulk 12-a-side bowlers.
Allan Brooke's team won a similar number of ends to Donvale, but their losses included only two doubles, while their wins included several doubles, a three, a four and a five.
Monbulk won the rink 24 shots to 12.
Graeme Godkin's team dropped only seven ends for the day and picked up a four and a six to further boost their scoreline.
They won their rink 23 shots to 10.
But it was Mike Harris' team that really stole the show in this round.
They dropped only six ends for the day.
Admittedly, one of those was a bad four-shot clanger, but, amongst their wins, they picked up three three's, two four's, a five and a six.
Monbulk won the rink by a massive 38 shots to 11.
Overall Monbulk 3 beat Donvale 6 by 85 shots to 33 with all three rinks claiming the points.
That win puts Monbulk 3 into the top four on the ladder.
Next week they will travel to Upwey-Tecoma, determined to maintain that ladder position with the strong form they showed this weekend.