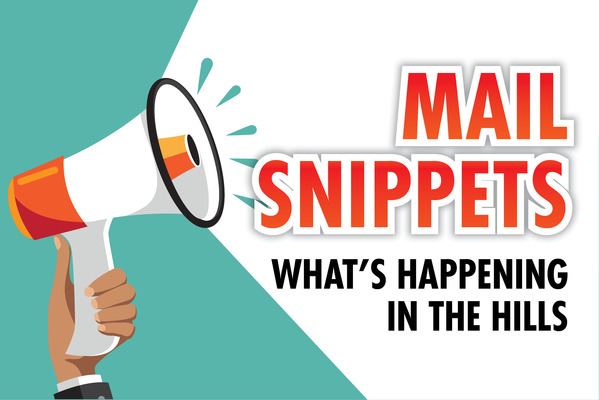 Walking and fellowship
The Belgrave Probus Club walking group meets at 10am on Friday at Birdsland Reserve in Belgrave Heights for a recreational walk followed by a cup of coffee (BYO) and chat. Dogs on-lead are allowed. Some walk a short distance, others step out for a longer walk. Wet weather does not deter. Retired men and women are welcome to join in for exercise and a chat. For more details call Trevor on 0497 660 275 or Deirdre on 0407 352 099.
Edible Kallista Action Group
Join the Edible Kallista Action Group Meeting for their next meeting on Wednesday 26 June at 7pm at the Kallista Community House. The group is planning its first community garden plantings and will continue to explore the potential for transforming Kallista into an Edible Village – creating functional, edible, aesthetic foodscapes enabling access to fresh organic food in public places. All are welcome. Bring along ideas, suggestions, vision, enthusiasm and energy. Inquiries: Christina 0424 100 420.
Men's mental health
A community forum with Wayne Schwass of Puka Up is aiming to help raise awareness about men's mental health and suicide prevention. The event will be held on 26 June at 7.30pm at the UTCRASH Peterson Pavilion. Entry is free.
Country music show
The Upwey Country Music Club is presenting its regular Walk Up Open Mic concert on Sunday 7 July at the Guides Hall in Underwood Road, Ferntree Gully, from 12.15pm to 5pm. Artists perform songs in the country, bluegrass and folk genres. The hall can accomodate an audience of up to 100 people. New singers, musicians and bands are always welcome and a band or musician is available to back singers, if required. There is a $7 entrance charge ($5 for members) to help cover costs. The club runs regular concerts on the first Sunday of each month at the Guides Hall. Inquiries: Graham 5964 8298.