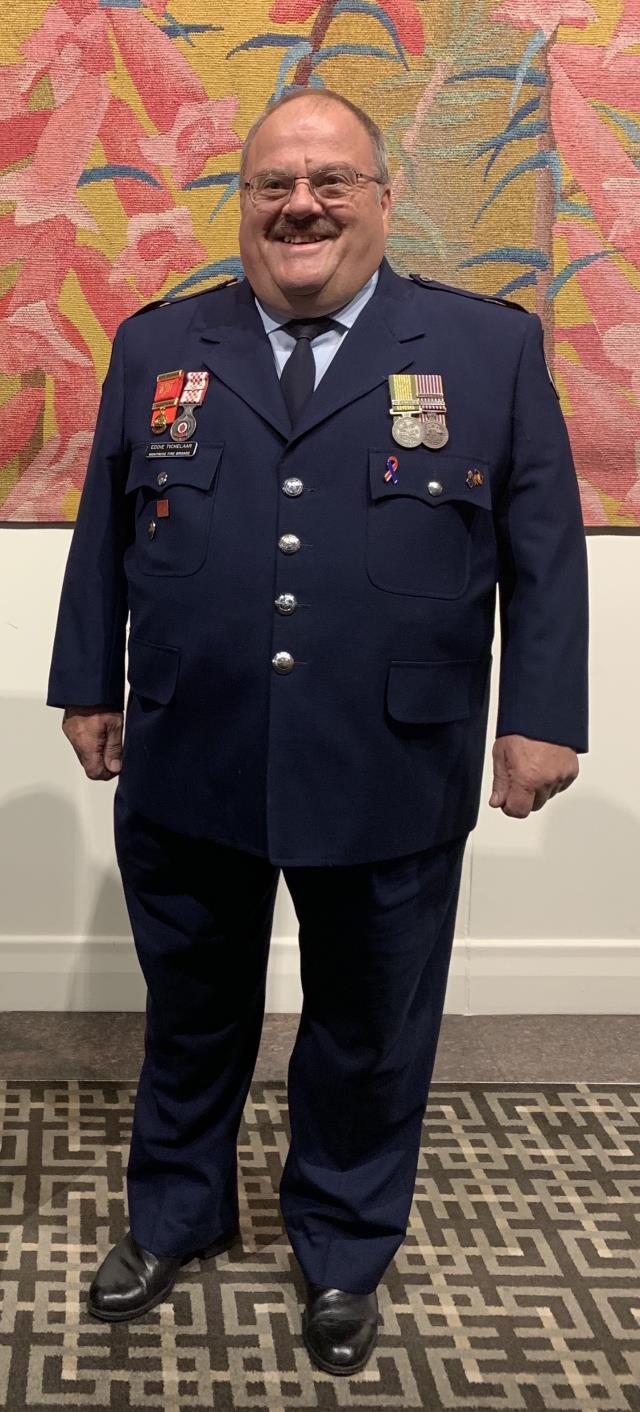 1. What is something people don't know about you?
At the age of seven my father introduced me to Ballroom Dancing. I spent 16 years ballroom dancing that also included teaching others how to dance.
2. Why and when did you join the CFA?
I have lived in Montrose all my life and my father was a volunteer in the Montrose brigade. From the age of four when I heard the fire siren go off, dad would head to the station and I would run down the drive to the roadway in the hope to see the trucks drive past on the way to a call. From that time on, I just wanted to join the Montrose Fire Brigade which I did as a junior member in 1977.
3. What do you enjoy most about your role and being a part of the CFA?
Over the years, I have learnt so much, experienced a vast array of events and enjoyed the company of so many talented people both within the CFA and the community. So much so that public relations and community engagement just fits for me.
4. What have been some of your most memorable moments with the CFA and why?
Unfortunately devastating fires are up there in my memory, Ash Wednesday and Black Saturday bushfires and the Kilsyth Primary and Club Kilsyth structure fires. The most memorable for me however was when I received a life membership of Montrose Fire Brigade and the CFA just a few short years ago.
5. What do you love most about the Yarra Ranges?
The History and Beauty of the Dandenong Ranges and Yarra Valley. I really enjoy looking back at the history of where our region has come from and the hard work that has gone into building and developing the area we live in.
6. What event, past, present, or future, would you like to witness?
I would absolutely love to witness Neil Daniher witnessing a cure for MND. Neil is such an inspiration, what an awesome human.
7. Which four guests, dead or alive, would you invite to a dinner party?
If I had the opportunity, I would love to invite:
Frank Emery who was a much loved and local identity in Montrose.
Kevin Hienze who lived across the road from me. I was inspired by him and his love for gardening and his TV program "Sow What".
Mable Young (Sawyer) was an interior decorator and a wood and metal carver, she was commissioned by Melbourne architects in her field. Mabel and her husband William Blamire Young lived in Montrose.
William Blamire Young was a water colour artist and art critic for The Herald Newspaper. In 1911 he was commissioned by the Postmaster-General of Australia to produce the first Commonwealth of Australia postage stamps.
8. Who do you admire the most?
Micheal Herman OAM of Yarra Grange, Coldstream.
In my business life, I had the pleasure of doing work for Michael at his home at Yarra Grange for almost 20 years. If you didn't know Michael personally, you could be mistaken for thinking he had a silver spoon stuck in his mouth and would expect everyone to do everything for him. How further from the truth was that. If Michael asked you to shovel manure he would be there shoveling too and I admire a person like that. Unfortunately Michael passed away on my birthday in 2003 and I was honored to be one of the pallbearers at his funeral.
9. What are some of your hobbies?
Researching Montrose & Local History and sharing this information with our community. Restoring and researching retired fire appliances. Steam Trains and steam engines are also on my list of hobbies.
10. What is your favourite book and/or film?
Roots: The Saga of an American Family is a 1976 novel written by Alex Haley. It tells the story of Kunta Kinte, an 18th-century African, captured as an adolescent, sold into slavery in Africa, transported to North America; following his life and the lives of his descendants in the United States down to Haley.