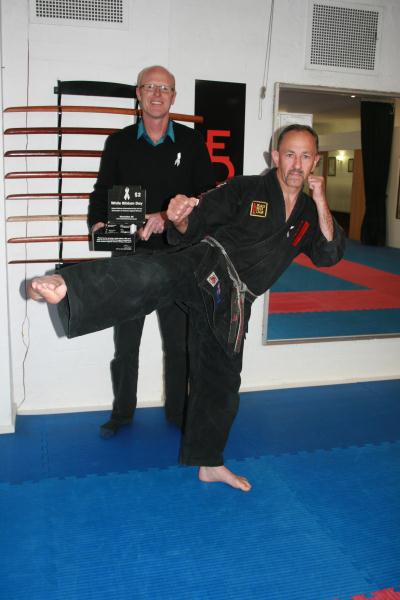 By REBECCA BILLS
EDGE Martial Arts is taking a stand to combat violence against women.
Head instructor of Edge Martial Arts in Mount Evelyn Kyoshi Andrew Roberts has joined Mount Evelyn Reformed Church Minister and committee member for the Family Violence Education Network Richard Schoenmaker in the battle to tackle the major issue.
Both are supporters of White Ribbon Day, which was held early last week, and Mr Schoenmaker said the number one issue in this area is family violence.
"If we didn't have violence in this area there wouldn't be much else wrong," he said.
"I've been working with White Ribbon for a number of years now and it's been a tough one.
"Violence against women is a major problem but people really find this topic hard to talk about."
Mr Schoenmaker said the Family Violence Education Network is currently doing many things in local schools to try to tackle the issue and said having Mr Roberts come on board with his martial arts school to support White Ribbon is great.
Mr Roberts said white ribbon holds a heavy meaning in martial arts in the sense of making sure people don't abuse some of their skills.
"It's a really important organisation to get behind," Mr Roberts said.
"I have four children and they are all girls and I would hate for anything like that to happen in their families.
"We have over 540 students here and if we can make all those students as well as their families aware we are reaching about 1500 people, it might even be more."
Mr Roberts said supporting White Ribbon is not just about making men aware that violence against women is unacceptable but it is to make the whole community aware.
White Ribbon is the world's largest male-led movement to end men's violence against women.
The not-for-profit organisation uses primary prevention initiative and an annual campaign to seek to change the attitudes against women by engaging boys and men to lead social change.
White Ribbon Day, which was held on 25 November, was the start of 16 Days of Activism to Stop Violence against Women which ends on Human Rights Day on 10 December.
For more information on White Ribbon visit www.whiteribbon.org.au.
White ribbons are available to purchase at Edge Martial Arts, 17 Hereford Road, Mount Evelyn.