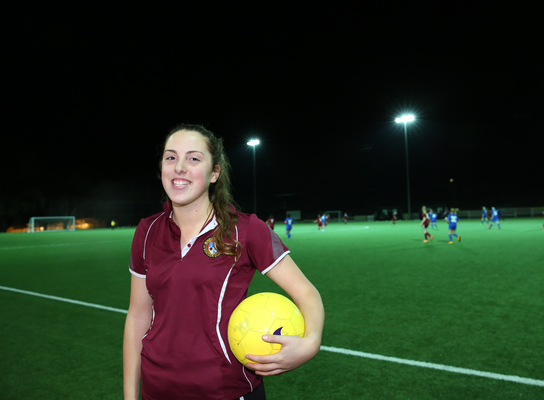 By Derek Schlennstedt
Clare Di Stefano, goalkeeper at Monbulk Rangers Soccer Club is one of four Monbulk soccer players who have been accepted to go to America as part of a soccer scholarship.
All four players received different soccer scholarships at different schools which include studying a course of their choice and playing soccer at college level.
Clare, who has been playing the sport since she was in Grade 5, will be playing for Sussex College in New Jersey and said she hopes to improve her soccer skills while there.
"I get to play at a really high level, get extra training and develop as a player and also study at the same time so it's a great opportunity for me," she said.
That extra training is twice as much as she already undertakes and at the same time she will be studying exercise science at Sussex College.
Clare said she is slightly daunted by the prospect of having to juggle both study and soccer but is excited for the opportunity to go overseas and play soccer where she said it is more recognised.
"They take college soccer very seriously so I'll get extra goalkeeper training – they train a lot so it's quite daunting about what I'm going to step into," she said,
"There's a lot more opportunity for women's soccer in America than Australia – it's generally bigger, and more recognised."
The 18-year-old left on 23 July to make it in time for pre-season which starts on 1 August.
While excited to be given the opportunity to go overseas and play soccer, Clare said she definitely aims to eventually come back and play once again for Monbulk.
"I love playing sport in general but soccer is a team sport and the best thing is you're working for each other so you have to work hard for everybody else."
"I really like it here in Monbulk everyone is so supportive – I'll definitely come back after I've had the experience," she said.