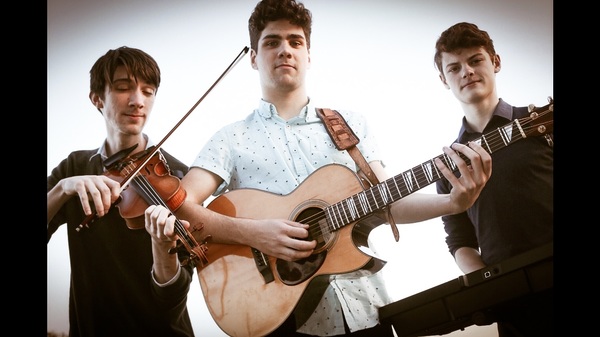 Hills-based musicians Liam, Dylan and Michael from Sparks are now set to further their idiosyncratic take on rock'n'roll and beats in upcoming performances.
After forming through an appreciation of the same music in 2015, the trio has honed its musical skills through several Battle of the Bands in Melbourne and surrounds.
The band's origins lie in humble beginnings in high school jamming sessions when Liam and Michael sought out their talented violinist Dylan to further their sound in a chance meeting in the Dandenong Ranges two years ago.
Away from Dylan's studies at 'jazz university', the three found common enjoyment in writing and recording vocal harmonies, a dynamic which has held true to the present from their debut as a three-piece at the Belgrave Busker's Festival in February 2015.
A self-confessed streak of perfectionism runs through Liam, Dylan and Michael's attitude towards composing original music.
The band draws upon the best harmonic aspects of pop and soft rock, combining and expounding these sounds with an effervescent indie edge to create their sound.
Their debut release, The Chicago EP, was made independently in March 2016.
The title track, Chicago, relates the wintertime blues when "the sun's at least half a year away", a common feeling in the band's temperate stomping grounds in the outer-east of Melbourne.
For Liam and Dylan, songwriting is about using the medium of music to create a relatable story.
Drawing upon their empathy with their friend's experiences to write lyrics, music is a challenge to create a story which might have secret hidden meanings or a greater depth that listeners can take away, or might be a challenge to their future selves to live up to.
Liam patiently writes 'one bar at time' to complete the band's next projects while Dylan confidently finds that songs form when "they're ready to be finished".
The band's next challenge is to progress their sound to incorporate the upbeat, bop-along melodies of Motown and the Beach Boys with the grating edge of musicians like Tom Waits and Earth, Wind and Fire.
As winter of 2017 thaws and the sounds of spring warm up, Sparks will be there to lift listeners into the summer and keep in a mood where they can reach out, dance along and make new friendships and hear time-honoured beats and melodies in a new way.
Sparks will be performing on Thursday 4 August at the Sooki Lounge in Belgrave.
The band will be supporting popular established act Loonee Tunes.
For more details and ticket information, visit www.sookilounge.com.au.