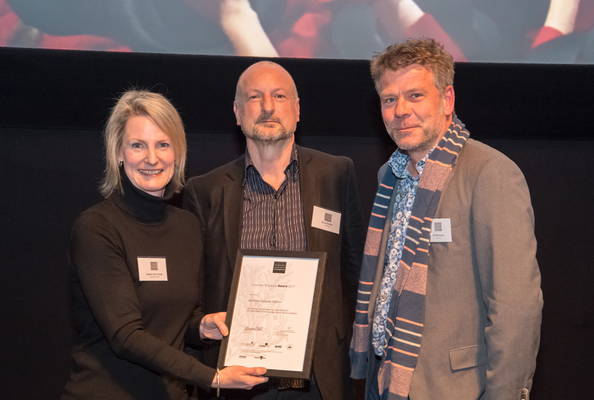 By Derek Schlennstedt
Burrinja Cultural Centre was awarded the Best Small Museum at the 2017 Victorian Museum Awards on Wednesday 26 July.
The Archival Survival Award for Small Museums was awarded to Burrinja for their public programming and community engagement developed for their national exhibition 'Black Mist Burnt Country'.
The exhibition commemorated the 1950 British atomic tests in Australia, through artworks collected from public and private collections.
It included over 30 Indigenous and non-Indigenous artists who used various different mediums of painting, printmaking, sculpture, photography, new media and music that spanned seven decades.
This marked the third time that Burrinja had won the award with the cultural centre winning the same award in 2010 and 2014.
Burrinja Executive Director, Ross Farnell said the award came as a surprise and was a credit to the hard work undertaken by staff and volunteers.
"This is a remarkable achievement for such a small organisation that does so much, and one of which everyone at Burrinja and in the region can be rightly proud," he said.
"These outcomes can only be achieved when an organisation has a clear vision and a fabulous team of people from board to staff and volunteers all working hard to make goals become reality."
Mr Farnell also passed on special congratulations to JD Mittmann, Burrinja's curator and maanager of collections, for driving the project through three years of development and funding rounds.
Upon receiving the award, JD Mittmann said that it was authentication that exhibitions could be both engaging, visually appealing and historically stimulating.
"This award is a wonderful acknowledgement of the intent of this exhibition: where works of art, printed materials and interactive media can be put together to successfully tell a complex story," Mr Mittman said.
"It is a validation that exhibitions can be both aesthetically pleasing while historically engaging."
The Black Mist Burnt Country exhibition is currently moving its way across Australia, but is expected to exhibit at Burrinja in 2018.