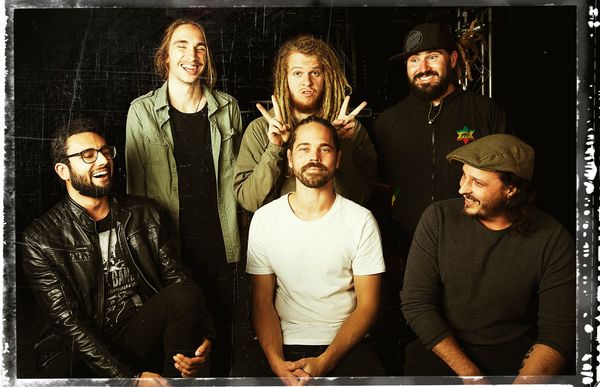 By Derek Schlennstedt
Love songs are generally expected to be all dramatic and emotional, but Sunshine Coast Roots gurus, Bearfoot have taken a different approach with their new single, "Crazy For You" – a knees-up ska-driven track with twists and turns, celebrating their own rollercoaster love lives.
To celebrate the release of their new single, Bearfoot will be bringing their distinctive blend of So-Cal, hip hop and dub reggae to Sooki Lounge on 31 August.
Following on from last year's EP, vocalist Asher Chapman said that they decided to release this favourite, older track, which had been written years before as they all felt now was the perfect time personally.
Vocalist Asher describes the track as a catchy love song spiced up with some epic flavours. It tells a sentimental tale about growing old with someone you love.
"All the guys are from different musical backgrounds such as metal and rock and that comes together to create a pretty distinct reggae sound," Asher said.
"This track was written a long time ago, back when I met a girl who changed my world, and six years later turns out to be an amazing wife."
It's a song about the challenges we all face on the road to growing old together."
Their sun-soaked-yet-dark take on roots, reggae and dub has sent ripples through the country, and has even seen the eccentric band travel to New Zealand for the Illuminate festival.
Since its release on 4 August, the track has already become a big hit with reggae fanatics and has reached number five on the Triple J Unearthed roots chart.
Asher said the band was looking forward to the tour, especially visiting Melbourne as although this isn't their first tour, it is their first time in Melbourne for a majority of the band members.
"I haven't been to Melbourne and neither have a few of the boys from the band," he said.
"We're looking forward to coming down and checking out Sooki Lounge."
Bearfoot is known for their highly energetic, sweat-drenched live performances, and their ability to create catchy melodies which they guarantee will have audiences dancing.
'Crazy For You' (Feat. Andrea Kirwin) will be available everywhere from 4 August and Bearfoot will perform at Sooki Lounge on 31 August.