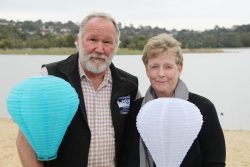 By Peter Douglas
The Light the Night fund-raising event holds a special place in the heart of local volunteer, Anne Hodgson.
This year's Leukaemia Foundation event is even more poignant for Anne because it will mark 10 years since her initial diagnosis of acute myeloid leukaemia and subsequent bone marrow transplant in 2007.
In remission after her successful transplant, Anne has been actively involved with Light the Night, participating in every event since 2009.
At the time of her diagnosis and treatment, Anne has described how supportive the Leukaemia Foundation Support Services staff were in guiding her through a time that was filled with uncertainty and many questions.
Having had the support of the Leukaemia Foundation, which provided her with light in a time of darkness, Anne has since been focused on returning this light, by volunteering with the foundation and helping raise awareness around blood cancer.
Anne has opened the Light the Night walk in Lilydale, and has worked hard each year to collaborate with her team to raise funds as part of the event.
Anne described how emotional and moving the Light the Night events are, and how special it is to see communities come together in support of those going through or affected by blood cancer.
"I got involved with Light the Night because I've had a blood cancer … it was just a way to repay the Leukaemia Foundation for all that they'd done for me," she said.
"One year, I volunteered to help. It's a nice feel, this one, because it's really community based. A lot of people come together.
"We had, I think, 700 last year. Such a beautiful spot … at night it's just a trail of blue, white and gold lanterns."
The collection of so many lanterns in one location, each signifying an individual's connection to blood cancer, is an incredible sight to Anne.
This year, Anne will again volunteer and help to run the Lilydale Light the Night event on Friday 29 September, from 5pm.
She will also be walking in the Melbourne flagship event at St Kilda, with her generous supporters on Friday 6 October.
Anne's brother-in-law, and the host of the Lilydale event, Brian Hodgson, said he had originally thought about transporting people from the region to the Melbourne event, but opted to help create a unique local one.
"Rather than bus around 60 people to Melbourne, I'd rather have an event that can cater for 600 people," he said.
"It serves two purposes … it's a great gathering point for people who have a common involvement with blood cancers, and it's also visually spectacular for those who have never been aware of this kind of thing before."
Mr Hodgson said they often received incredible feedback.
"Some people stay behind after the walk is finished and still socialise and want to continue the conversation," he said.
"People come every year, and new people come every year, obviously there are new cases … it's quite inspirational and moving."
To join Anne at Lilydale's Light the Night, or to find an event near you, visit www.lightthenight.org.au. and be the light for Australians facing blood cancer.