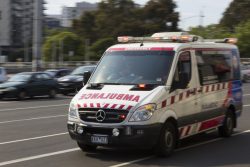 By Derek Schlennstedt
A girl, 8, has died from the flu after being admitted to the Angliss Hospital in Upper Ferntree Gully.
The girl was admitted to this hospital on the morning of Friday 15 September and died later that day.
The news of the girl's death comes as part of what experts are saying is an outbreak of flu, with Victoria's public and private hospitals reaching emergency capacities.
There have already been 13,000 flu cases in Victoria so far this year, nearly double last year's figures.
The flu has already claimed the lives of several elderly people in Victoria this month when there was an outbreak at an aged care facility in Wangaratta.
Health Minister Jill Hennessy urged Victorians to be alert to symptoms and told 3AW that the death of the young girl was "one of the other very sad cases that we've seen this flu season".
"We're having a horrific flu season right up and down the entire eastern seaboard both in Queensland and NSW and Victoria; West Australia seems to be less affected than what we are, but we know we've had double the number of people with flu – flu notifications," she told 3AW.
"This is an influenza strain that is able to impact the young, the elderly, the well and the unwell, and people should be really attentive to any symptoms of the flu that they might have."
Victoria's oldest and youngest are the most in danger, with those over 85 four times more likely to suffer from the flu than other adults, and under-5s falling ill in greater numbers than previous years.
Anyone feeling unwell is urged to act, go to the doctor, contact NURSE-ON-CALL on 1300 60 60 24 or call an ambulance in extreme cases.