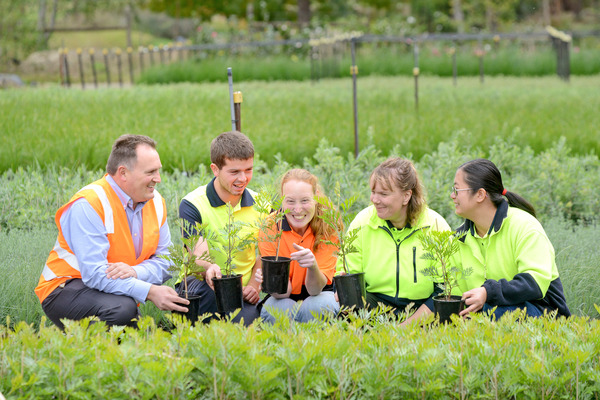 By Derek Schlennstedt
Australia's largest social enterprise production nursery, Yarra View Nursery, has taken its first steps into the commercial sector.
The Mount Evelyn-based nursery has been awarded a $500,000 contract to supply plants for the Victorian Government Level Crossing Removal Project.
The project is part of a State Government initiative that requires three percent of all infrastructure contracts to deliver social benefits alongside the goods or services provided.
Those social benefits are certainly being delivered, as Yarra View provides supported employment services for people living with a disability.
Of the 110 workers that Yarra View Nursery employs, 90 have either autism, or a physical or intellectual disability.
As a result of procuring the contract, General Manager at Knoxbrooke Enterprises, Scott Buckland, said they can continue to respond to the increasing demand for jobs.
"It is a fantastic result that allows us the confidence to continue employing more people," Mr Buckland said.
"It basically gives us a lot of confidence to be able to employ more people, and offer a lot of our current employees extra hours.
"Our mission is to offer work to as many people as we possibly can."
With a friendly work environment, and the chance to gain experience, it's no surprise that there is a waiting list for those wanting a job.
Sophie McGill, an employee of seven years, said she's been able to learn a lot about horticulture and has worked her way up the gardening ladder.
"Just the area of work .. working in horticulture and the people are very nice … I've changed groups from the dispatch to the fern group, so I get a bit more experience," she said.
The 12-acre nursery is owned by the not-for-profit Knoxbrooke Enterprises and is renowned for producing high quality plants, which it supplies to major retail chains, including Bunnings.
Annually, they produce more than one million plants, ranging from ferns and camellias, to fuchsias and bonsai.
Mr Buckland said another 100,000 plants for the Rail Project would pose no problem to their working capacity.
"For the rail project, we'll provide over 100,000 plants … we produce well over one million, so in terms of capacity it's a significant increase," he said.
"It's really only 10 per cent of our capacity and we want to do more."
Mr Buckland said he was thankful that the John Holland Group who were awarded the contract to construct the Mernda Rail Extension Project chose Yarra View Nursery to supply the plants.