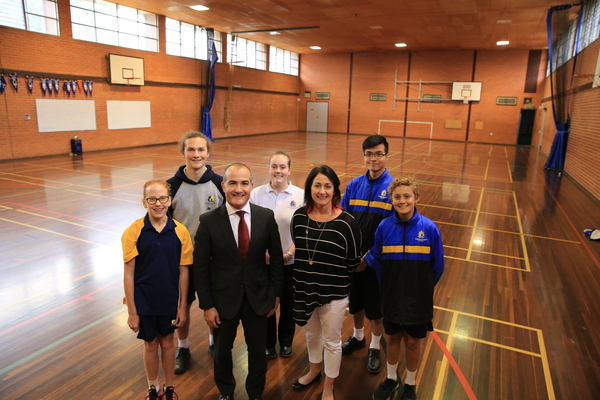 By Derek Schlennstedt
In its state budget the Andrews Labor Government has invested almost $50 million across six Secondary Schools in the Yarra Ranges.
Of the $50 million, $20 million has been invested in the Lilydale and Upper Yarra Education Plan, which focuses on transforming secondary education in Lilydale and the Upper Yarra area.
Transforming education in that area is exactly what the State Labor Government is doing with Lilydale Heights College, Lilydale High School and Upper Yarra Secondary College now set to develop complementary focuses – Zoology, sustainability and outdoor environment – a result of the funding boost.
Lilydale Heights College will receive $8 million which will go towards a new sustainable Learning Hub, Gym and create a 'town centre,' where students can meet.
Principal at Lilydale Heights College, Rosina Fotia said the funding had been a long time coming and would help replace buildings which were over three decades old.
"The school opened in 1989, but it hasn't had significant funding spent on it in that time, lots of pockets, things done here and there … we're just absolutely thrilled," Ms Fotia said.
"We've got a three stage master plan and this will cover stage one which is creating the sustainability hub … It'll have a strong focus on sustainability, use of renewables, recyclables, energy sources right through the school curriculum and really relevant to our location in Lilydale."
The gym also funded as part of the $8million will be available for use by the community and will allow a wider variety of sport to be played on it.
"It was state of the art when it was built 30-40-years-ago but now can only be used for training as the run-off is too short," Ms Fotia said.
"Now we can have a beautiful state-of-the-art facility that we can use and the community can use."
After taking a tour of Lilydale Heights college on 2 May, Minister for Education, James Merlino, said that the level of investment into education in the Yarra Ranges was "unprecedented".
"In the shire of Yarra Ranges six government secondary schools are getting an upgrade … it's an unprecedented level of investment," Mr Merlino said.
"It's just wonderful making sure we match the great teaching and learning that happens here at Lilydale Heights with the very best facilities."
In the past 12 months the college has had a number of consultation meetings with parents, community members and students in determining the priorities for the school.
That priority and focus was the sustainability hub. Likewise Upper Yarra and Lilydale High School both identified distinct focuses.
"Each of the three schools has identified a particular focus," Mr Merlino said.
"For Lilydale heights it's the sustainability centre, at Lilydale High it's Zoology, and at Upper Yarra it's Outdoor Education and outdoor environment."
The school infrastructure investment includes a further $11 million to upgrade Montrose Primary School, Don Valley Primary School, Hoddles Creek Primary School, Launching Place Primary School, and deliver a new campus at the Alpine School in Don Valley.
Other schools in the Yarra Ranges whichc also received a funding boost included Mooroolbark College, Monbulk College and Upwey high School.