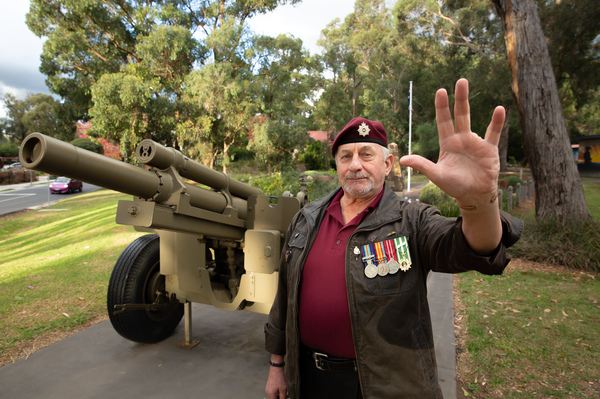 By Derek Schlennstedt
Think back to the renowned battles of the Vietnam War … Long Tan, The Tet Offensive, Khe Sanh.
Though, each is held in high-esteem and remembrance, Australia's largest battle in Vietnam is one that many haven't heard of, and it's known as the battle of Coral-Balmoral.
The Australian War Memorial describes the 26 days of fighting at Coral and Balmoral as Australia's "largest, most sustained and arguably most hazardous battle of the Vietnam War, and this year marks the 50th anniversary of the battles, which began on May 13, 1968.
Mount Evelyn resident, John Sumner, was part of that battle and at 19 years of age he served with 176 Air Dispatch at the Battle of Coral.
And though he spent a number of days, serving and assisting the infantry and artillery, there are no banners or names on plaques to recognise his units participation and devotion to their country.
Now on the 50th anniversary, all John is asking for is some recognition for him and those close friends who were in 176 Dispatch.
"There was really only one or two Air Dispatchers there at a time over the three days; I would get relieved and then another one came and then I went back, then another one came and so on," Mr Sumner said.
"It was three of us Air Dispatchers, we were the only ones, but what we did at Coral on those first three nights, and the amount of rounds and that, that we unpacked, well 176 Air Dispatch have never gotten any recognition for that, never get a mention because there were only three of us there.
"We only had one or two at any one time to do a lot of work, it was really a combined effort, not just one … even though the infantry, artillery and tanks did wonders and they definitely deserve all the recognition they can get, but us at the back weren't doing nothing either, so it's disappointing not to receive any recognition."
Neither the history books, nor the Vietnam Veterans Museum, recognise 176's contribution, and Mr Sumner said he would try his best to change that.
"Our main operation was to bring guns, ammunition, any stores, vehicles and to direct helicopters in and out," he said.
"At one stage, though, one of our members was on a M16 machine gun on one of the main days of the attack … at 19-years-old it was a bit scary.
"I am going to try my best to get more recognition for 176 Air Dispatch Company."