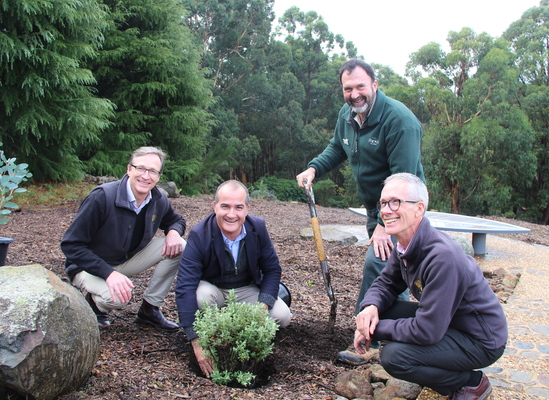 By Peter Douglas
The Dandenong Ranges' exceptional climate and landscape is helping to shore up the future of some of Victoria's most rare and threatened plant species.
As part of the newly launched 'Care for the Rare' program, the newly titled Dandenong Ranges Botanic Garden will offer a new home and a safeguard for many of the state's plants that are at risk of extinction, due to events such as the impacts of climate change or bushfire.
In particular, plants from the alpine regions – such as Mount Buller, Mount Buffalo, Mount Baw Baw and Omeo – are expected to adapt and thrive due to the idyllic soil, rainfall and cool climate of the Dandenong Ranges.
The result will be a plant bank, or a 'conservation collection', of hundreds of species planted around a two-hectare alpine section at the site formerly known as the Rhododendron Gardens.
Monbulk MP James Merlino, on Friday 18 May, met with members of Parks Victoria, the Royal Botanic Gardens Victoria and the Dandenong Ranges Botanic Gardens, who witnessed the launch the program.
Team Leader for the Dandenong Ranges Botanic Garden, Mark Klause, said the program had been widely embraced.
"From a conservation perspective, it's been identified as critical for botanic gardens to protect threatened species from all over Victoria," he said.
"The major threat is climate change. As the alpine areas heat up, you'll have wildfires come through.
"It's important to have a plant bank throughout Victoria; so if something goes wrong in one area, there's a plant resource in another region."
Senior Ranger at the Dandenong Ranges Botanic Gardens, Craig Parsons, said species have been matched to a botanic garden where they are expected to adapt.
"In the Dandenong Ranges, we are getting more alpine and mountain type plants, because this is obviously a location where they're most likely to grow," he said.
"We're lucky here; we're already establishing this alpine garden. So when this program came up, they thought of us straight away because it fits in here."
Six gardens have been chosen for the first round of the program, including the Dandenong Ranges Botanic Gardens, which is Victoria's newest botanic gardens.
Several rare species will be added to their collection, including Bogong Daisy-bush, or Oleria frostii, which naturally occurs in Victoria's alpine regions and is highly susceptible to impact from climate change.
Royal Botanic Gardens Victoria is leading the program, through assessment of participating gardens and sourcing and production of the rare and threatened plants, with support from Parks Victoria.
Mr Merlino said the rare native species are a proud addition to the Dandenong Ranges Botanic Gardens, which already boasts a brilliantly colourful collection of rhododendrons, azaleas, camellias, cherries and daffodils.
"The Victorian Government is committed to ecological conservation throughout Victoria's botanic gardens," he said.
"The 'Care for the Rare' program is unique in that it emphasises planting rare and threatened native species in climates that are similar to that where they naturally occur, giving them the chance to flourish."