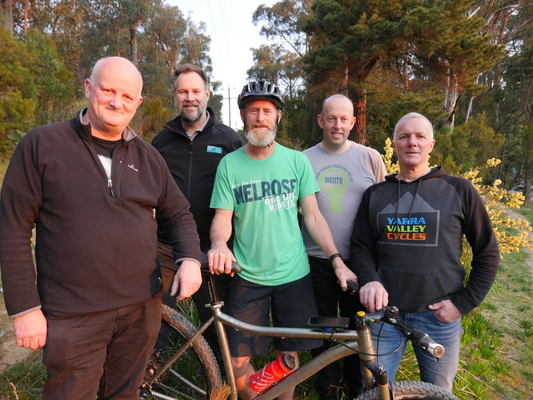 A mountain biking trail through Mount Evelyn will take a slight detour to protect native plants.
The Mount Evelyn Aqueduct Mountain Biking Trail will link the Dandenong Ranges with Yarra Valley trails.
Yarra Ranges Councillor Tim Heenan said the proposed alignment for 1.2 kilometres of the trail had been changed "to avoid certain trees that have grown along the proposed alignment and ensured the riders don't enter private property".
"We started an extensive cultural and heritage management plan to be completed by the end of the year, investigating the alignment to ensure we don't disturb heritage sites, with Aboriginal Victoria, the Bunurong and Wurundjeri communities," he said.
"We walked the site with environmental groups last year, and the council has been looking into creating historical and environmental signage to explain what the aqueduct is and how it came to be here in Mount Evelyn."
The aqueduct used to transfer water from the Upper Yarra Reservoir to townships.
"It's now used by many walkers for fitness and to enjoy nature, and we want everyone to continue using the trail in a safe and harmonious way," Cr Heenan said.
"There are many animals living in Mount Evelyn, like kangaroos and wombats, near the track and their habitats have been taken into consideration."
Yarra Ranges Mountain Bikers president Andrew Swann said the group was pleased to see some progress being made on the trail and to provide in-principal support for its development.
"We look forward to working with the trail building company that is awarded the detailed design of this trail, and look forward to riding it," he said.
"Although it's only a relatively small section of trail, it will provide an important link between the existing Silvan mountain bike trails and one of the main access trails from Mount Evelyn."
The Mount Evelyn Aqueduct Walking Trail runs from the Olinda Creek Walking Track near Silvan to the Mount Evelyn township.
The aqueduct was de-commissioned in the 1970s and the rural section of land through which it passed has been preserved as a park.
A cultural and heritage management plan will inform the final trail alignment, which is likely to be released next year.
The Friends of the Mount Evelyn Aqueduct group will be invited to help during construction.
It will be separate from the existing shared trail.
Council will support the group with funding to revegetate the former informal trails with local indigenous plants.