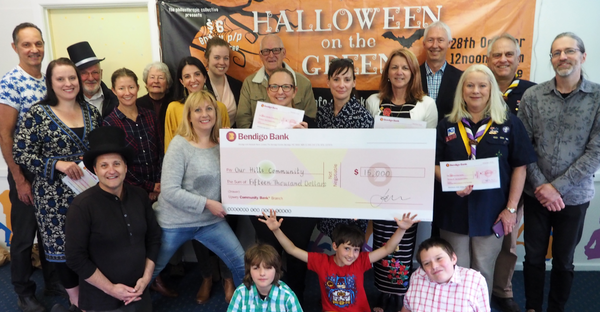 The Halloween on the Green event, organised by the Philanthropic Collective at Ferny Creek has once again exceeded all expectations
This year's event raised $15,000, all of which went back into the community.
The Philanthropic Collective proudly presented cheques to beneficiaries of this year's event, and Halloween on the Green event director, Andrew Fillip-Gautier said the money was only a small part of what the event was about.
"The success on the day is never measured by how much money is raised but by the joy and happy memories created for all our children and hills families who join together in the spirit of good will and community," he said.
"We continue to engineer the event to ensure we have as many affordable price points offered by our participating benefactors to strike a balance between external food and stall vendors for our families.
"Our 'model' is to make everything we do is super affordable or free with the gate entry, and as a consequence we are blessed to raise funds."
The Philanthropic Collective have raised and given back to the community close to thirty thousand dollars in the events short history of two years and Mr Fillip-Gautier stressed that there day of celebration will always fall on a fixed date being the closest Saturday to Halloween.
"We want to embrace all the varied community events on offer and support each other's endeavours without programs overlapping," he said.
"We invite the community to join us again as we host a bigger and brighter Cultural Festival on Saturday 26 October, 2019."
The Philanthropic Collective would like to acknowledge the support of Ferny Creek Reserve Committee of Management, Police Crime Prevention Liaison Unit, Yarra Ranges Council, Bendigo Bank – Upwey, Ferny Creek CFA, Scouts and Tennis Club, Fletchers – Olinda, Cameo Belgrave and the offices of Jason Wood and James Merlino.