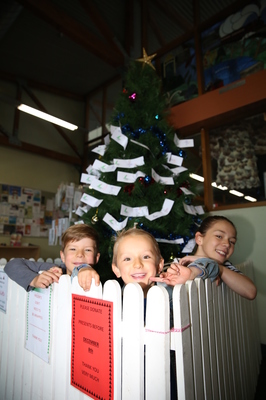 No child should go without a present this Christmas.
That's the message from the Dandenong Ranges Emergency Relief Service (DRERS) which launched the organisation's annual Christmas campaign recently, calling for people to leave a gift under the Giving Tree at Belgrave Library and help local families in need.
At the large Christmas tree found in Belgrave Library, people can take a tag from the tree and leave an 'unwrapped' gift for anyone aged between newborn and 18 years.
The concept is well-established in the region and has helped spread Christmas cheer to many children over the past 20 years.
DRERS Manager Tania Bevan said most people "felt the pinch" at Christmas due to various social events, fuelling the car to visit friends and family during the holiday period , which puts pressure on people to spend that "little bit extra here and there".
"It's about being able to assist people in our community who are financially disadvantaged to be able to provide gifts for their children over Christmas," she said.
"It's probably the time of year you notice the disadvantage in our community more, and for us it's our busiest time of year in terms of providing emergency relief to people.
"When we do hand out the presents to the families you can really see the difference it makes."
Ms Bevan said the Christmas campaign had experienced enormous success over the 20 years it had run, with the community digging deep to help their neighbours.
She said DRERS liked to aim for an equal spread of gifts to cater to different age groups.
"This is great way for people wanting to help their community and haven't had a chance to do all year by donating some food, or a gift," she said.
"Just go into the library and leave a gift under the tree – there are tags on the tree which specify ages and gender.
"It's been very well supported by our community which enables us to do this, without the support of the community we wouldn't be able to make sure there were gifts for people who need them."
Ms Bevan said DRERS also prepared hampers to give away so donations such as plum puddings were welcome.
"We do provide Christmas hampers as well and we've found they've increased in popularity over the years"
"We've found that's a huge need for Christmas foods – Christmas cakes or puddings."
Gifts can be left, unwrapped, under the tree at the Belgrave Library and food donations can be dropped off at the DRERS headquarters at the Belgrave Hub 1616-1624 Burwood Hwy, on the lower level before 8 December.
"We're really grateful to the support from our community year after year because it really does make a difference."