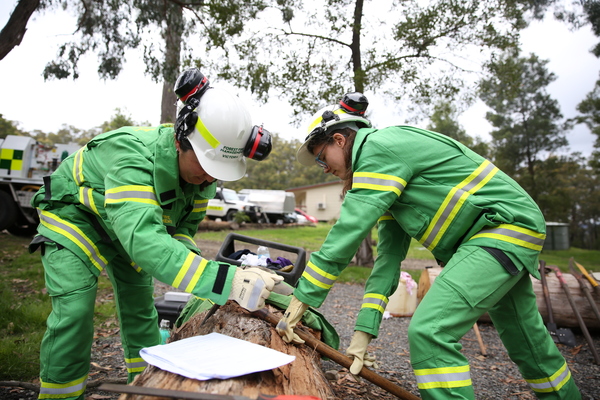 Forest Fire Management Victoria's (FFMVic) newest recruits are completing a tough and informative four-week training camp in readiness for the summer fire season.
The 42 new firefighters from the Port Phillip Region – which includes Melbourne, Mornington Peninsula, the Yarra Ranges and Melbourne's outer suburbs – are undertaking a five-day camp at Lyrebird Park in Yellingbo, 48 km east from Melbourne's CBD.
The comprehensive training course ensures the new firefighters are trained to the highest levels in fighting fires and reducing bushfire risk.
Senior Forest Fire Management Officer John Van De Paverd said there were a number of topics covered over the week-long training camp.
"Its part of a four week training induction for all these new project fire fighters," he said.
"This week we do a lot of practical things like working with machines such as dozers fire tankers and our ultra-light slip-ons.:
"They cover topics such as emergency management procedures, safety and survival techniques, fire suppression techniques and planned burning.
After completing the training camp, the newest recruits will be fully trained and operational.
Mr Van De Paverd said that the mix of classroom theory and field-based activities helped prepare the new firefighters for the demands of the fire ground and the varied role of a firefighter.
He said that despite fire fighting being a predominantly male profession, there were many women signing up for seasonal fire fighting roles.
"We've really gotten a lot more females than previous years … almost 50 percent," he said.
"We're committed to achieving gender equality within fire and emergency leadership roles, and we want women to see early on there are a number of great career paths available within forest fire management.
In addition to increasing their knowledge on fire management, participants will also gain an understanding of FFMVic's responsibilities in supporting broader emergencies, such as floods and landslides.