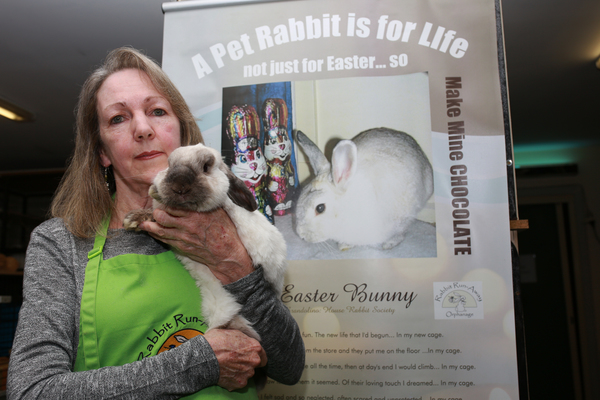 Don't do it. Don't even think of doing it. Just, don't do it.Don't buy a lop rabbit, don't buy a satin. This Easter, if you want a fuzzy cute rabbit to keep the kids preoccupied then go and buy a toy, because if you're buying a rabbit on an Easter whim then you are extremely ill prepared for the responsibilities that come with owning one.
While most people associate Easter with holidays and chocolate eggs, those luxuries couldn't be further from the minds of those running animal shelters.
Instead of partaking in the Easter celebrations, shelters around Victoria are preparing for the debacle that follows Easter where they are inundated with abandoned 'Easter' bunnies that are dumped on the curb after their cuteness-factor dissolves and the owners realise the responsibilities associated with owning a living creature.
Pet stores throughout Victoria traditionally report a significant increase in the selling of domestic rabbits during the Easter period, and in the weeks and months following many of these rabbits will find themselves at the Rabbit Run-away Orphanage in Olinda, where they will be looked after.
Because, even today there are still faint glimmers of civilisation in this place we call humanity, and it's those faint glimmers who dedicate their time to cleaning up other people's messes.
It's not easy though, and often they are fighting a losing battle, which is why they require our help to remind that friend – we all know the one – who's decided to buy an Easter bunny to keep their kids happy.
"If you're going to consider a rabbit as a pet, consider it as a pet and not as an Easter present or a way to placate the kids," owner of the Rabbit Runaway Orphanage, Judi Inglis said.
"Learn about the animal before purchasing it and find out if that animal is going to suit your lifestyle and is the best pet for your family.
"Rabbits are a prey animal and are not good with children under eight, they're not as interactive as a dog.
"Everyone thinks they are cute and cuddly animals, but they aren't an animal that likes to be picked-up and cuddled … if they have their feet off the ground they associate it with a predator having them."
In recent years rabbits have become a common domestic pet among younger families, who choose them as an 'easy option.'
While there is nothing easy about caring for a rabbit, buying one has never been easier and by law owners are under no obligation to desex or microchip their pet rabbit.
"There is no control over the sale and breeding of them so we do need the government to step up and put some laws in place to control the domestic pets," Ms Inglis said.
For those individuals who are still pining for a rabbit for Easter, Judi welcomes people to visit the orphanage over the Easter weekend, where visitors can learn about how to look after a rabbit, and meet some of their bunnies.
The orphanage is open over the weekend and on Easter Monday from 1 until 4pm.
"We are full of Easter bunnies here; so if you're considering rabbits for Easter, then perhaps come up and make that the Easter treat instead," Ms Inglis said.
The Rabbit Run-Away Orphanage is located at 19 Stanley Street, Olinda,
You can donate money to help the volunteer-run orphanage at https://www.gofundme.com/special-needs-rabbits-vet-bills.