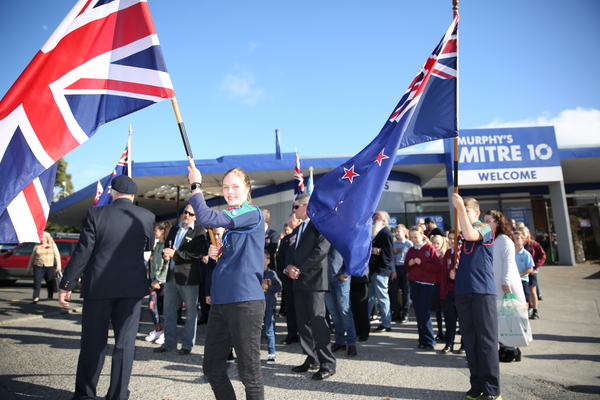 As the Anzac Day march proceeded down the Monbulk main street, and towards the town's RSL, thousands lined the streets to pay their respects.
Family members proudly wore the medals of relatives, men and women, who served their country in the fields of war around the world.
At 10am on 25 April they congregated at the Monbulk RSL to remember the services of Australian soldiers both past and present.
The service proving to be a heartening collaboration of local community groups, which included the local CFA, police, Country Women's Association, traders, schools and the RSL.
As Monbulk RSL President, Bob Ford aptly summed up, "the Monbulk service makes you proud to live in Monbulk."
"It's the community involvement … having school music bands, school choirs and scout groups involved," he said.
"We get a lot of community involvement to create something that is a part of Monbulk."
This Anzac Day was one in which the Monbulk RSL paid particular attention to one of the town's most influential pioneers during the war years, and Anthony McAleer spoke from the heart about Mrs Aeneas Gunn.
As Mr McAleer explained Mrs Gunn came to the Monbulk fore during WW1, to support and console the community with such devotion and compassion that she earned herself a permanent place in the hearts of those who lived there.
"Jeannie Gunn is better remembered as Mrs Aeneas Gunn OBE, an Australian literary legend well known throughout our nation as the author of that classic tale of outback pioneers, called 'We of the Never Never,' though, few people are aware that for over half her lifetime she was a guiding force to the people of Monbulk," he explained.
"In 1914 war started and Mrs Gunn witnessed the men of Monbulk going off to serve in the conflict.
"She had a great devotion and sympathy for these men with which she had spent so much time with, and over the following years she fondly referred to them as, 'my boys.'
"she wrote letters to them with news from home, she sent parcels and photos and she knitted for them almost constantly … even inventing a bracelet in which she could carry a ball of wool so she could walk and knit at the same time."
Mr McAleer explained that Ms Gunn's energy and admiration had always been directed toward the individual, and as such in her own caring he explained that she virtually adopted all the men who went to fight in both WW1 and WW2.
That devotion to the servicemen of Monbulk created a lasting impression on many families in the area and is something that Mr McAleer said should be treasured by all who live in Monbulk.
"The previous generation of Monbulk residents that she did so much for are almost gone and sadly, few are currently aware of her efforts in Monbulk … if anyone deserves a statue in this town it is Mrs Gunn," he said.
"Monbulk owes Mrs Gunn a great debt and I would like to put it to you, in the centenary of those post WW1 years when she did so much, let's build a statue to her here in her memory and as tribute to her in Monbulk."