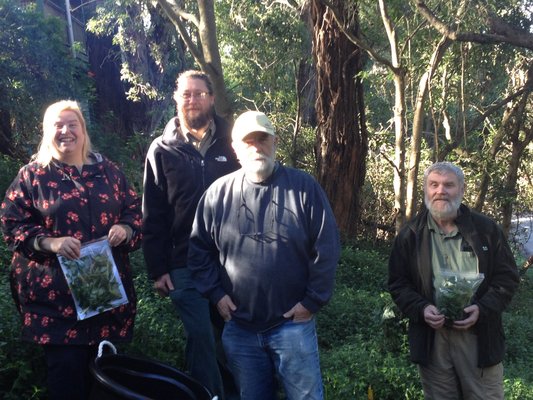 Friends groups along Ferny Creek in Upwey are taking on the invasive weed wandering trad.
The CSIRO recently released a fungal biological agent to control wandering trad around the Dandenong Ranges.
This followed years of research to confirm that it only worked on this specific weed, which hails from Brazil.
The Friends of Thompson Road, Upwey South Reserve and Glenfern Valley Bushlands have worked with Dr Ben Gooden from the CSIRO to release this fungus along Ferny Creek in Upwey.
The friends groups are keen to find out if a biological control solution is an efficient way to avoid laborious hand weeding or using herbicides in ecological sensitive areas.
Friends of Glenfern Valley Bushlands president David Moncrieff said he hoped the fungus would at least give native vegetation a chance to compete and promote native biodiversity.
The friends groups were provided with training and guidelines to ensure the best chances of being able to introduce the leaf fungus into the infestation of wandering trad along Ferny Creek.
The CSIRO and Yarra Ranges Council are providing demonstration sessions to ensure that this biological control agent has every chance of success.
"The method of release is easy to do, using infected leaves to spread the fungus spores," Mr Moncrieff said.
"The fungus spores enter the leaves through tiny openings on the underside of the leaves."
Contact one of the local friends groups for more information.