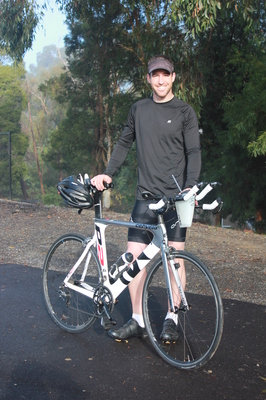 On 7 July 2019 Tecoma physiotherapist David Bilston will take part in one of the biggest triathlon's in the world; Challenge Roth, in Germany.
The gruelling ironman triathlon comprises of a 3.8 kilometre (km) swim, an epic 180km cycle, followed by a 42.2km marathon.
"It's an extremely tough event; you have to cross the finish line in under fifteen hours," Mr Bilston explained.
Not only will Mr Bilston be undertaking the biggest sporting challenge of his life, but he has also been invited to join team 'Maxing Out'.
Rugby legend Mat Rogers and his wife Chloe Maxwell established the team and their charity – 4 ASD kids – in 2009 after their son was diagnosed with autism.
The charity raises funds to assist families with children affected by autism spectrum disorder, by providing access to early intervention treatment.
To raise awareness David will be joining Olympic legend Susie O'Neill, personal trainer Commando Steve and former pro surfer Danny Wills as they all embark on their first ever ironman distance triathlon.
David told the Mail that 'The premise of 'Maxing Out', is that it parallels the challenges and rewards of training for an epic event, with the struggles and joy of raising a child with autism.
Since November, David has been training non-stop and unlike his Queensland team mates has endured the cooler 'hills' conditions.
"I fit in training sessions around the needs of my young family and my business," said David,
"It has meant early mornings, running at Lysterfield Lake with a head torch and chilly evenings out on the deck cycling on the wind-trainer. However, the hard work is all part of the journey."
Proud to be a part team Maxing Out, David and PureLife Physiotherapy aims to raise $5000 for 4 ASD Kids.
"I think most families can say they've been impacted by autism in some way."
"There is positive assistance out there, and by raising funds hopefully more families can access this early intervention treatment."
To help David reach his goal you can donate at: https://4asdkids.gofundraise.com.au/page/DavidBilston or visit PureLife Physiotherapy in main street Tecoma.