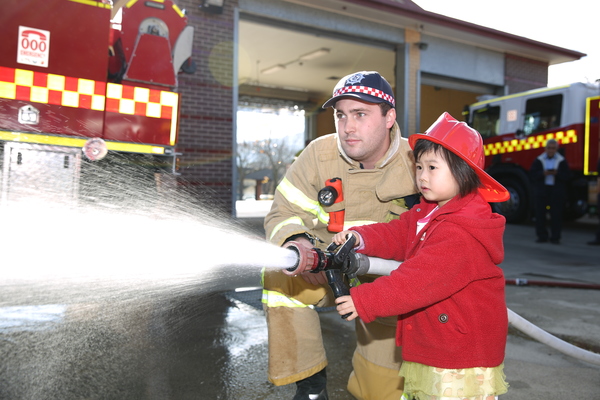 Ferntree Gully fire brigade has found a novel way to spread its fire safety message.
On Friday 5 July the brigade ran its eighth Funtime Storytime, which attracted around 70 children and their parents.
The joint initiative between the brigade and Eastern Regional Libraries is designed to help engage the community about important messages including fire safety and literacy among kids.
Children attending had the chance to spray a fire hose, climb aboard a fire engine and dance with Captain Koala.
The Mail spoke to Eastern Regional Libraries Sue Wootton, co-creator of the Funtime Storytime initiative.
"There are two aspects to this program; the fire safety aspect, which the CFA is very keen to promote, and the libraries where we try to promote literacy."
"It's so important that parents read to their children and unfortunately a lot of children don't have a role model at home who can read to them and the point of today is to illustrate that men can read to their children and grandchildren."
The program has been a huge success and has in previous year been nominated for the Fire Awareness Awards.
The event includes a performance by Firefighter April and Captain Koala, where children are taught the dangers of cooking and using a fire blanket on a gas fire.
Later the kids are allowed to shoot the fire hose and go inside the trucks.
"This is a partnership that Graham from Ferntree Gully CFA and I have been doing for about 5-6 years now and it's lovely to see the families coming through and lovely seeing the kids enjoying what they're doing and I just hope the message of fire safety and literacy is getting through," Ms Wootton said.