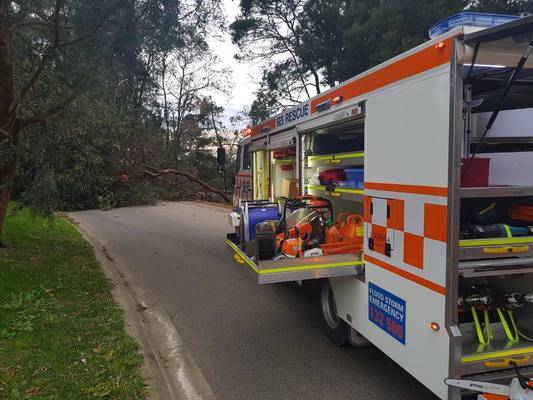 Despite wet and windy conditions around the Dandenongs, local SES crews are been pleased to report there was no significant damage in and surrounding towns.
Overnight, Emerald SES crews attended over 60 incidents.
Due to the high number of calls the unit also received assistance from Narre Warren and Lilydale SES units.
The Bureau of Meteorology recorded wind gusts of up to 70 kilometres per hour in Ferny Creek at 9pm and Deputy Controller Steve Reid at Emerald SES said emergency calls began filtering in around 1pm yesterday.
"The majority of our calls were for trees down and we had quite a few up around the Olinda, Sassafras, Cockatoo and Gembrook areas."
"There were one or two where there was some damage to parts of the house but overall didn't look like there was too much damage. "
"We were fairly constant from 1pm and it probably got quite serious around 7pm."
Deputy Controller Reid said the assistance from Lilydale and Narre Warren was a great boon to the unit and allowed members to rest in between jobs.
"We got a crew form Narre Warren and Lilydale who came to assist us and they were here until midnight. "
There are still dozens of homes without power in Cockatoo, Gembrook and Hoddles Creek and the Mount Dandenong Tourist Road is stil closed both ways between Perrins Creek Road and Mountain Highway due to a tree that's brought down power lines.
Emergency services are directing traffic.