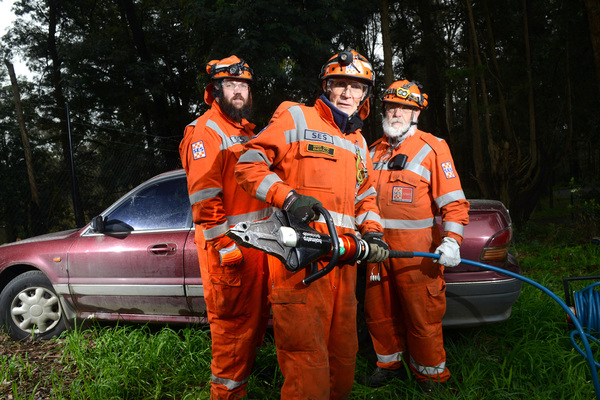 The busiest SES unit in Victoria is also one of the most under resourced.
For years Emerald SES members have worked out of a small, single concrete building in Emerald with no change rooms, no official office area and a kitchen that can only fit one person at any time.
Following the Minister for Emergency Services James Merlino's announcement in 2019, the unit is being relocated to a new, fit-for-purpose site on Belgrave-Gembrook Rd, which will allow the Emerald SES to better serve the community.
That relocation isn't far away and the unit is holding a community information day where residents can learn more about the new state-of-the-art facility.
Emerald SES controller, Ben Owen said operating from their current location has been difficult.
"It's very cluttered," he said.
"We've got a water heater and a microwave and that's about it in our kitchen area where as in the new area there is going to be a fully-fledged kitchen and lounge room, with a dishwasher."
"Ninety-five per cent of our members have to store their uniforms in their cars as we just don't have the space. We even have to park one of our four-wheel-drive units at Cockatoo CFA because we don't have room for it and they graciously allowed us to use some of theirs."
Construction on the new unit is expected to start in September, with volunteers set to take possession by mid-2020. The new building will replace the existing unit on Old Gembrook Rd which volunteers had long outgrown.
Emerald's 51 volunteers are among the most active in Victoria and respond to more than 800 requests every year.
Mr Owen explained that the new building will enable volunteers to halve their response times.
"It's going to be so much more efficient being able to attend incidents as there won't be so much running around," Mr Owen explained.
"It'll make our emergency volunteers more comfortable and mean we will be able to service the community much more effectively."
The community day will be held on 20 July from 12-3pm at their current facility on the corner of Old Gembrook and Sheriffs road, Emerald.
"The open day is about letting people come in, see what we've been working in, what the issue is with our current facility and where we'll be relocating too," Mr Owen said.
"There will be audio visual displays and the building authority will be here to answer questions too."
Take a unique look at the new station design: