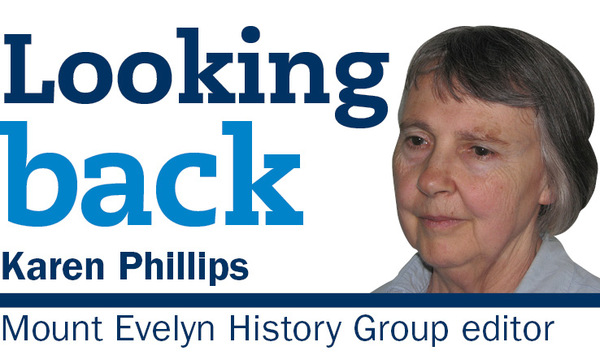 We're fortunate in Mount Evelyn to have our network of historic walking and shared-use trails.
While you're out for your morning run or walking the dog, you can travel back in time and imagine Mount Evelyn as it was in past decades.
The present township of Mount Evelyn grew up around the highest station on the Lilydale to Warburton railway line (1901-1965).
Without the railway, Mount Evelyn would never have existed at its present location on the ridge top. The original settlement was situated down on the creek flats.
The railway alignment is now the Lilydale to Warburton Rail Trail.
Lilydale's first water supply, opened in 1905, was drawn from the Cascades on Olinda Creek and carried water, via a five and a quarter mile water race, to the Puddle Dam on Birmingham Road.
Part of the route can still be followed as the Water Race Trail, running from the Puddle Dam, via Sharland Close, and along the northern boundary of Quinn Reserve.
The race can be seen as a two foot wide, unlined channel beside the trail.
There is historical signage at the Puddle Dam and Quinn Reserve.
The Mount Evelyn Aqueduct Trail preserves the routes and structures from two periods of Melbourne's water supply history.
The O'Shannassy Aqueduct, built 1912-1913, passed through Mount Evelyn as an open channel.
Silvan Reservoir was constructed in the late 1920s, its outflow aqueduct joining the older O'Shannassy system near Mount Evelyn Primary School.
The original concrete channel and bridges have been preserved in the bushland section of the Aqueduct Trail between Hunter Road and Priestley Crescent.
The Olinda Creek Trail currently exists in two sections.
One runs between the creek and Swansea Road, passing through the site of the Olinda Creek Settlement, which pre-dated the Mount Evelyn township.
No trace now remains of the village of slab and bark huts that stood there from the 1890s, but the Indigenous history of the area is acknowledged on a sign board.
The section of Olinda Creek Trail from Mount Evelyn Recreation Reserve to Silvan Reservoir follows the pipeline that replaced the open aqueduct in the 1960s.
The Cave Hill Tramway ran nearby, but closer to the creek.
These historic transport and water supply trails are central to Mount Evelyn's identity.
Mount Evelyn History Group acknowledged their significance in the title of our book Tracks to Trails, a history of Mount Evelyn.