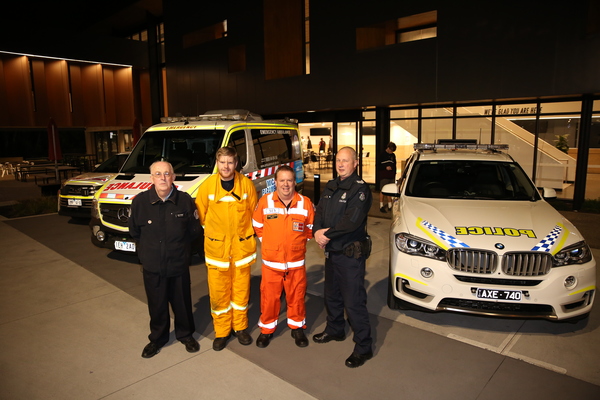 For every fatal crash there are many victims.
The person who died at the scene. The passengers or driver of another car. The paramedic who cared for the victim. The firefighter who cut the car open. The police officer who had to inform the parents their loved one had died.
This is the story that was told by CFA Commander Tim Holland, who on Wednesday, 7 August was speaking to a room of around 500 people – many of them teenagers – at the CityLife Church in Wantirna.
"Last year in total 119 lives were lost across Victoria, this year 176 people have already lost their lives," CFA Commander Tim Holland said addressing a room full of teenagers at the Knox TRIP program.
"Have a look around the room and think about the ripple effect. What type of impact that has across not only your family and friend, but the community as well."
The Knox TRIP program is a combined response by emergency services – CFA, SES, Police and Ambulance to the tragic loss of young lives on roads in the Eastern Region.
The target audience is 16 to 25 year-olds and their parents.
Montrose CFA community safety co-ordinator Marj Taylor introduced the program which included guest speakers, Tim Holland, Lead Snr Con Gavin Nash from Knox Highway Patrol, Detective Sgt Mark Amos from the Major Collision Investigation Unit, Magistrate Jack Vandersteen, Director of The Alfred Trauma Centre Prof De Villiers Smit and Sally Millar, the mother of Charlie Robertson who died in a crash at Launching Place on 10 April, 2015.
The program promised an in-depth insight into what happens to road crash victims and the aftermath from injuries and fatalities. There was a warning that some of the content would be graphic, and it was.
Lead Snr Con Gavin Nash spoke of the statistics, worldwide, nationally and in the Eastern Region. In Maroondah, Yarra Ranges and Knox alone, 754 people had been injured in road related incidents since 2013.
Speaking on the effect of those statistics, CFA commander Tim Holland demonstrated the ripple effect on attendees.
"I'm going to ask these three here to stand up for us."
"These three people are our passengers. Passengers in a vehicle involved in a serious collision. These three young people will carry these scars for the rest of their lives."
By the end, 500 people were standing as Tim demonstrated how, like a stone thrown into water the ripples expand outwards impacting lives.
The program addressed risks of alcohol, drugs, speed, inexperience, distraction and peer group pressure.
Sgt Mark Amos, reminded young drivers about their responsibility to themselves, family and other road users.
"When you get in that car as drivers you have an enormous amount of responsibility."
"Do what you believe to be right and say that to your friends, push the peer group to point of ensuring that the right thing is done and above everything else, don't become a memorial. Don't end up a bunch of flowers on a tree," Sgt Amos said.
The five guest speakers spoke about responsibility and consequences from very different and personal perspectives. Their stories were raw and real, and addressed the hidden road toll, beyond the raw statistics of how many people die on our roads each year.
The Mail will tell these stories in coming weeks –; Detective Mark Amos; Magistrate Jack Vandersteen, Professor De Villiers Smit and mother Sally Millar.