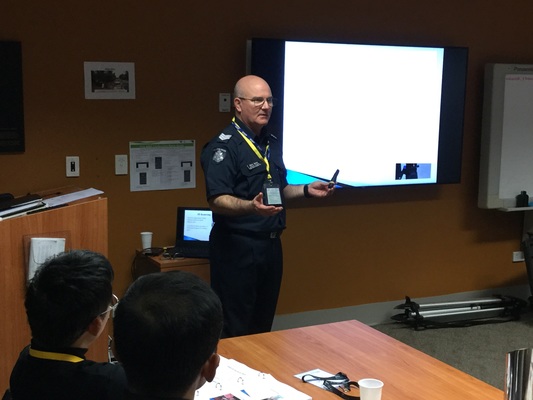 "You'll never hear me say accident. They are not accidents, they are collisions – something caused it to happen."
That one statement might have given the packed CityLife Church in Wantirna a hint of where Sergeant Mark Amos was heading.
As a sergeant at Victoria Police's Major Collision Unit, Sgt Amos said he was the one who arrived "if someone's died, or it's apparent someone will die".
"We spoke about the ripple effect and how everyone sees it…I don't see it, I live it," he said.
"That 2am in the morning thing, that's when we turn up. The families, that's who we deal with."
Sgt Amos was speaking to the 500 or so people at the Knox Teenage Road Information Program (TRIP), most of them young people.
With a target audience of 16 to 25 year-olds and their parents, TRIP is a combined response by emergency services – CFA, SES, police and ambulance – to the tragic loss of young lives on Knox and Yarra Ranges roads.
Sgt Amos addressed the staggering statistics of road death around the world, in Australia and in the Yarra Ranges – 1.25 million people die on the roads annually and millions of others suffer serious injury and lifelong changes.
But it's the statistics between young drivers and road trauma that is particularly concerning.
Injury is the single biggest killer of Australian youth, more than all other causes combined, and 45 per cent of all young Australian (16-25) injury deaths are due to road traffic crashes.
"Every two hours someone gets hurt, every eight hours someone ends up in hospital with a serious injury, and every 29 hours my office gets a phone call to say someone has died – every day," Sgt Amos said.
"Every year, Victoria spends between $3 to $4 billion on the results of road-related injuries, but the real cost is the one you can't measure, the one that happens every minute, of every hour of every day all the time.
"It's that someone being missed – that's the cost that you can't measure."