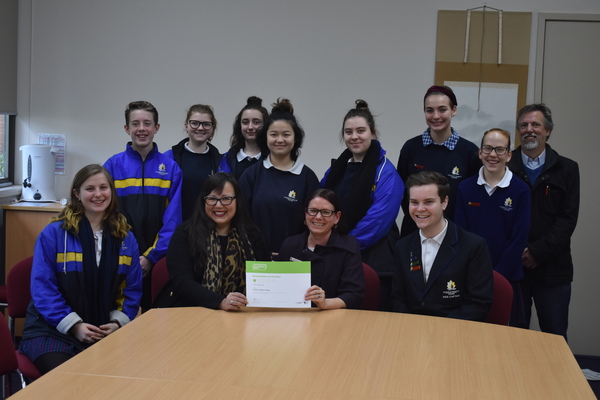 The Lilydale Heights Secondary College has been applauded for reducing its environmental impact through the Victorian Government's ResourceSmart Schools Program.
The College received its first-star certificate under the program from the Member for Eastern Victoria, Harriet Shing, on 21 August.
Ms Shing acknowledged the school's commitment to protecting the environment and said students at Lilydale Heights are leaders in the field of sustainability.
"We couldn't be prouder of the work that's been undertaken by student leaders including those here at Lilydale Heights College," Ms Shing said.
"It's wonderful to meet with such an innovative, passionate, committed and articulate group of students leaders who are showing, not just through their actions but through their passion advocacy, how we can go about preserving what we have in our natural environment.
"They form a really important and positive part of the future in environmental sustainability."
The ResourceSmart Schools program is a free program which helps schools embed sustainability in everything they do.
It sees participating schools awarded up to five stars for completing modules related to environmental sustainability.
Not only did Lilydale Heights received its first star, but it also saved over $48,000 through practices such as reducing energy use, waste, water use and increasing biodiversity.
Year 11 student Imilia Pop-Jeske is part of the school's sustainability team.
She said her family has taught her the importance of sustainability and she now wants to transition her learnings into the school.
"My family has always been quite sustainable. My father has developed a wind turbine at home and I've helped him with that which has made me want to help at school," she said.
"I've always had an interest in planting with my mum because she's part of the permaculture Yarra Valley.
"I want to go into engineering in the future and hopefully that can develop into helping the environment."
Now that Lilydale Heights has received its first-star certificate, it is working hard to one day become a five-star school.
One of the biggest projects that will help it get there is a proposed Sustainability Hub.
The Hub is expected to consist of five learning spaces that can be opened up into one large learning space. The school hopes it will be a space where different faculties can work on integrated sustainability projects.
The school's Sustainability Leader, Shannon Sargeant, said the Hub will not only help improve sustainability, but it will also encourage problem-based learning that resonates with the students.
"We've looked at where we have sustainability within our curriculum and where we can improve the teaching and learning of sustainability," she said.
"A really big focus for us at the college at the moment is listening to students, what they want to learn about and how they want to go about undertaking their leaning.
"Then using that information to integrate and design curriculum programs."
Since 2008, schools participating in the ResourceSmart Schools Program has helped divert roughly 75,000 tonnes of greenhouse gases and saved $26 million through energy, waste and water savings.
The program has reached more than 1400 schools who have an estimated student population of over 200,000.