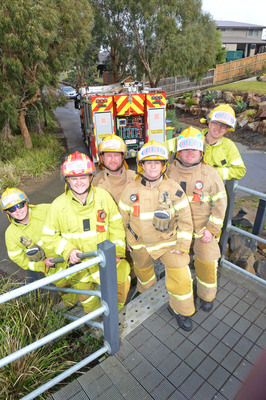 It would take a fair effort to climb 28 flights of stairs.
Now imagine doing it in full fire fighting gear and breathing apparatus.
That is the challenge facing 12 Ferntree Gully CFA volunteers, who will tackle the Melbourne Firefighter Stair Climb on September 7 to raise funds for services that help sufferers of post-traumatic stress disorder and depression.
For the Ferntree Gully volunteers it's worth every step, and the brigade has continuously been one of the biggest fund raisers to-date.
Last year they raised $17,000 – the most raised by any one station in Victoria.
This year the Ferntree Gully volunteers are again stepping up to fight against PTSD and suicide and are hoping to raise even more.
"We should reach it, and hopefully surpass it … we're currently sitting at $11,500 and we're in the lead once again," Lieutenant Scott Monssen said.
"We've been collecting car batteries and truck batteries since the last one and so far we've dropped off about five tonnes for this year, but over the last four years we've dropped off 13 tonnes."
Since 2012, the brigade has raised over $50,000, all of which is donated to the Firefighter Stair Climb. Each year they've raised the bar and are doing so again."PSD food in Knoxfield, AWM electrical supplies have donated, which is something we didn't try last year."
More than three million Australians live with depression and anxiety, according to the organisers of the Firefighter Stair Climb.
One in four Australians will suffer a mental illness during their lifetime, and 3000 die by suicide every year.
Over 600 Firefighters will climb 28 floors at the Crown Metropol Hotel, while wearing 25 kilograms of turnout gear and breathing apparatus.
All the Money raised from the event will go towards Lifeline, Black Dog Institute and the Emergency Services Foundation.
Mr Monssen said the brigade is particularly supportive of the stair climb and do all they can to promote mental health awareness in the emergency services.
"We're always going to incidents, such as car crashes and fatalities and it takes a toll on yourself," he said.
"There is high rate of depression and PTSD within emergency responders and around 10% of our Emergency Services Members suffer from PTSD, so the more we can raise the more people we can hopefully support."
To donate go to: https://www.firefighterclimb.org.au/station/cfa/ferntree-gully/
All donations go towards the Lifeline, Black Dog Institute and the Emergency Services Foundation