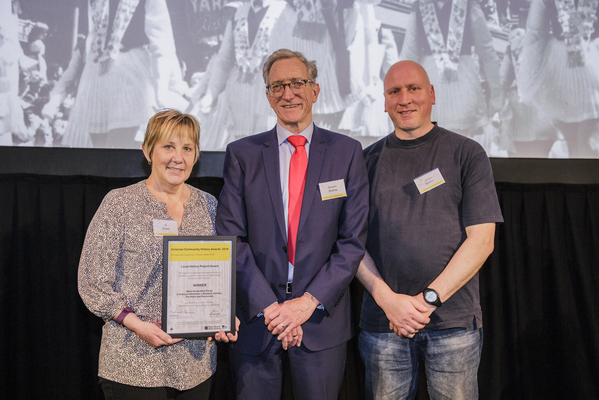 A book that tells the story of the roads in the Dandenong Ranges has earned the Local History Project Award at the Victorian Community History Awards.
Local Monbulk historians Jill A'Vard and Armin Richter were awarded the Local History Project Award on 14 October for their book When Roads Were Tracks.
The judges described the book as a 'colourful publication that documents the history of the roads in the Dandenongs'.
"As one of Victoria's popular tourist destinations, the roads and thoroughfares of the Dandenongs can be incredibly busy. When Roads Were Tracks encourages readers to look back and explore how the area was subdivided, cleared and populated, and how the roads were laid; a difficult feat in often steep and unforgiving terrain."
"The book provides comprehensive, local information about key roads and brings together historical documentation of the region, whilst still being able to captivate audiences, and entice them to learn more."
"It is a wonderful example of innovative use of primary records to provide visual allure and it tells the wider story of local communities through the documentation of the roads."
The Victorian Community History Awards recognises the work of individuals and organisations that keep Victoria's history alive by acknowledging those who work to preserve it.
Jill A'Vard and Armin Richter from the Monbulk History Society co-ordinated the creation of the book and Ms A'Vard said they were absolutely thrilled by the win.
"The awards were fantastic … we haven't submitted anything before, so it was all knew to us.
"There was some very impressive books and websites and we were just amazed that we won our category … we're still on cloud nine."
When asked what's in store next, Ms A'Vard said she and Mr Richter were working on a book that recounts the history of the Monbulk Football Netball Club.
"At the moment Armin and I are working on a book on the history of the Monbulk Football Netball Club. Armin is doing all the research and the writing and I'm doing the graphic design, so that's coming together for next year."
You can still find copies of When Roads Were Tracks at the Monbulk Hub.