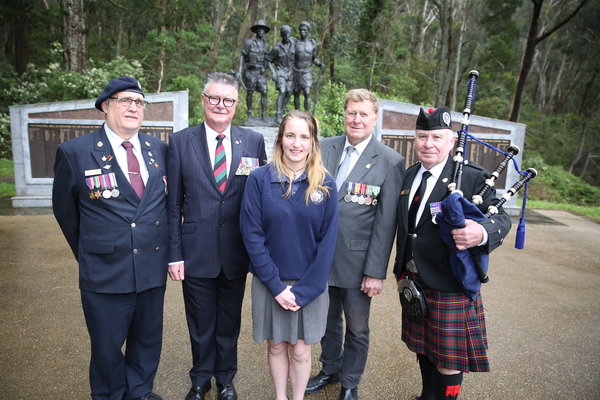 Year 11 students in the Yarra Ranges are being encouraged to study Australia's wartime conflicts and the influence of local veterans as part of a scholarship that will see them trek the Kokoda Trail,
Members of the 39th Battalion Association, and Monbulk, Lilydale, and Mt Evelyn RSL came together on 8 November at the base of the 1000 steps to launch The Cowey – Selman Kokoda scholarship program, which recognises the contribution of the regions Veterans.
The scholarship will enable two Yarra Ranges students in Year 11 to walk the Kokoda Track with Getaway Trekking in 2020.
Speaking at the event Yarra Ranges Mayor Tony Stevenson said the award will provide the younger Yarra Valley generation with an insight into the contribution to the Kokoda Campaign and the sacrifice made by men from the Yarra Valley community – most notably, Kokoda veterans Jim Cowey of Monbulk and Geoff Selman of Lilydale.
"This Local award has been established to encourage and to honour those who served, suffered and died fighting in this campaign during World War II," Cr Stevenson said.
"Similar Kokoda awards have already been run, in tribute to men who fought the campaign in the Baw Baw shire, the Cardinia Shire and in East Gippsland."
"Here in the Yarra Ranges we wanted to create an award that honours two local Kokoda Veterans, Jim Cowey and Harold Selman."
Both Jim Cowey and Geoff Selman saw action in the 39th Battalion and both fought in the Kokoda conflict. But it was only Jim who returned from WWII and who went on to form the Monbulk RSL.
The award has been dedicated to these two veterans and was organised by a committee made up of representatives from the 39th Battalion Association and the Mt Evelyn, Lilydale and Monbulk RSL clubs.
As part of the scholarship students will be asked to address the question 'What was the importance of the Kokoda Campaign in the Battle for Australia,' and 'Why would you like to walk the Kokoda Trail'.
Cr Stevenson recognised the committee for their dedication in organising the scholarship program. He hopes that students will take this chance to learn more about the regions' veterans.
I am sure this competition will be a great interest to many young people locally and it will certainly be an experience of a lifetime for the lucky winner and a wonderful way to learn more about such an importance aspect of Australia's History.