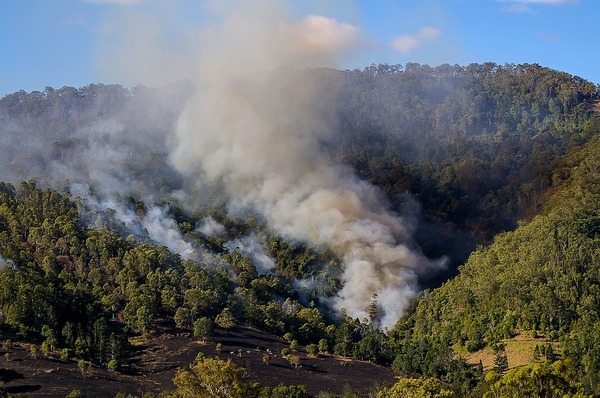 Firefighters from Pakenham Upper, Gembrook and Hoddles Creek Fire Brigades learned some valuable lessons on 28 November, ahead of the upcoming Fire Danger Period.
About 25 people gathered at the Gembrook Fire Station to witness a presentation from former CFA Senior Instructor Roger Strickland and Upper Ferntree Gully Captain Peter Smith.
The talk focused on the importance of learning from mission mistakes.
"We've got to learn to do a lot more asking rather than telling when it comes to any sort of mission failure," Roger said.
"Instead of who did what, just look at what happened and why people decided to do what they did."
By using Peter's personal experience, he and Roger explained how discussing mission failures can help guide understanding of fire behaviour in the future.
On 23 February 2009 Peter and two other members from his brigade were lucky to survive a truck burn over near Lysterfield after a fire they were fighting took an unexpected turn.
As a result of unique topography, weather conditions and "oven dry" vegetation, the three firefighters were forced to take shelter in their fire truck and were lucky to survive.
After assessing the event and unique conditions, Roger and Peter now present talks at fire brigades throughout the region to ensure firefighters know it's safe to discuss and learn from events.
Firefighters that witnessed the presentation learned the importance of training under pressure and being able to set up their truck for refuge in less than a minute.
They also learned about fire behaviour, such as how quickly a fire can go from ground spotting to tree-height flames, and the importance of utilising the McArthur Forest Fire Danger Meter, particularly in unfamiliar territory.
Roger said the aim of the talks is to help firefighters understand that everyone makes mistakes but it's important to "withhold judgement" and listen to survivors.
"Often we treat people when they do stuff up, like they did," he said.
"We have to work quite hard to forget hindsight bias, it's a natural bias that we've got.
"What we want to do is learn, learn from a bad day."