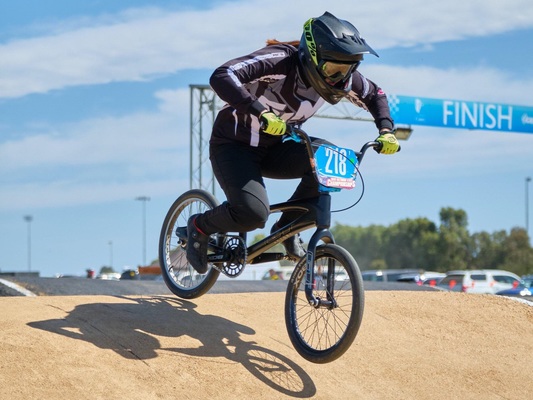 When Zoe Johnston rides her BMX bike on the track, she feels as if she is floating.
She flows through the bumps and jumps, and the ride feels smooth. Sometimes she feels like she is flying, and quite often it looks like she is.
For Belgrave South resident Zoe Johnston riding on a BMX track, jostling for first position, and flying through the air is where she feels most at home. For her, riding is a release.
The 15-year-old BMX rider took out the Victorian Superclass State Title and the 15 women's title at Casey BMX track on November 24.
The win comes a year after she broke her arm at the very same track where she would eventually pick up the state title.
"I actually broke my arm in January at the same track that State Titles were held at … I missed out on maybe 2 or three big events," Zoe told the Mail.
Despite missing a number of events because of her injury, Zoe came back even stronger in the second half of the year and took out the Victorian Superclass State Title.
To do this, she beat eight of the best riders from across the country to claim the crown, and even won all eight of her events leading to an award for most point accrued in a single day.
Speaking to the Mail, Zoe said she still couldn't believe the outcome.
"I actually won all of my races on the day which I wasn't expecting," Zoe said.
"After the race it all set in and made me feel like all my hard work paid off."
"It is just so crazy to me and even still is now. That me, I'm a state champ for superclass women! It's so weird to me."
Over 600 riders competed at the Victorian State titles at Casey BMX club, with riders from as far as field as Jingili in the NT and Pine Rivers in Queensland crossing into Victorian territory to claim the state title plate.
Zoe said that despite the broken arm and her first year competing against older, more experienced riders she never lost sight of her goal.
"A lot of the girls I race are in their early twenties and late teens. Sometimes it is daunting because you think of how much experience they may have over you and that can make you doubt yourself, but you can do anything you put your mind to and when you do it, it feels so good."
"If your aiming to jump a certain jump, you feel so good once you overcome it."