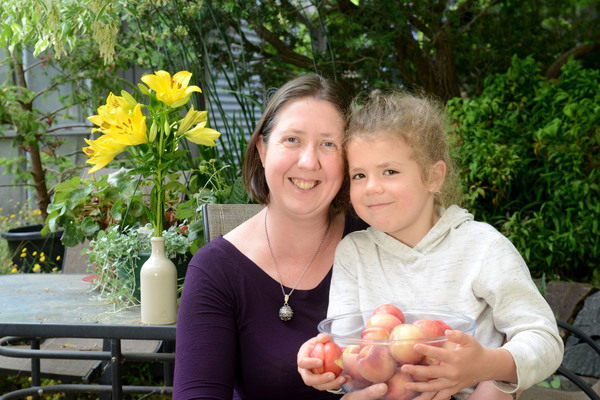 Alanna Wilson-Duff inherited a culture of poor eating when taking on the role of canteen manager at Sherbrooke Community School.
A staple of processed foods, dim sims, frozen pies and chips with zero nutritional value, alongside sugar laden drinks was the standard fare at the school.
With little to no nutritional lunch, students were caught in a perpetual cycle of poor habits.
Alanna certainly had her work ahead of her.
Though, Alanna and volunteers from the Philanthropic Collective came together to scrub and clean the years of neglect in the canteen and refresh the space for a new start.
Coupled with supplying access to fresh free fruit and bread, volunteers produced free healthy options at breakfast time and supported Alanna with a supply of fresh vegetables through the Free Food Program.
On 2 December Alanna was awarded the Healthy Choices Canteen Award by Inspiro CEO, Sue Sestan, in conjunction with the Australian Healthy Eating Advisory Service, for her work at the Sherbrooke Community School canteen, where she has been the Canteen Manager for the last two years.
But, the canteen manager Told the Mail "It hasn't been easy," to change the bad habits of students and staff.
"I started as a volunteer and saw how desperately the children needed good nutrition," she said.
"I could see many kids were coming to school without breakfast and going home to McDonalds for dinner, so it seemed even more important that they get something nutritious for lunch."
"I found one of the key elements of that was to provide them with a large range of healthy options."
"The biggest changes were the snacks and drinks. Getting rid of all the ice-cream, soft drinks, chips and all those sort of things and replacing them with sandwiches, fresh fruit and vegetables.
"The menu is always fresh and I make every single meal every day from scratch."
Sherbrooke Community School is the first school in the Yarra Ranges to achieve over 50 per cent of healthy food in their canteen.
The school has also signed a Healthy Eating Policy to ensure that they stay committed to healthy eating.
Alanna was presented with a cheque for $500 by Yarra Ranges Mayor Cr Richard Higgins, which she said will be reinvested into making more improvements to her school canteen.
She said that by offering kids healthier options it was possible to teach them the value of good nutrition.
"It is not just about giving them a sandwich instead of a meat pie, giving them healthy food has beneficial mental health outcomes and learning outcomes."
"It is a huge part of forming a healthy relationship with food and their bodies for the rest of their lives."
"Why should a canteen not be a forum for good education about food and good eating?"