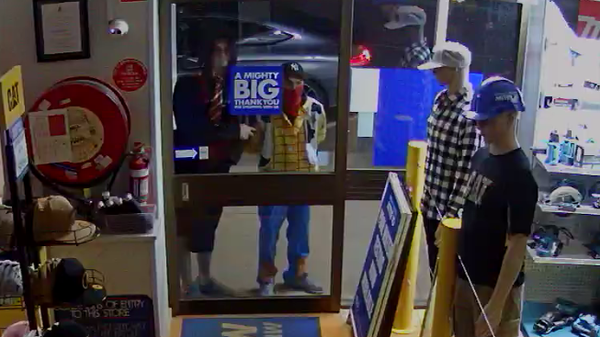 Police are seeking public assistance to identify two offenders in relation to an Emerald burglary on 3 February.
Two unknown male offenders allegedly arrived in a stolen Grey Mercedes sedan with false registration ATX214 and were looking through the window.
Police said the vehicle used in this incident was stolen from a burglary in Templestowe.
Offender 1 – Caucasian male, was wearing a Woody costume from Toy Story and a black cap
Offender 2 – Caucasian male, wearing a Harry Potter costume complete with the wand and grey tracksuit pants.
Offenders allegedly returned to the store in the same vehicle and attempted to force entry on the front door with jemmy bars causing damage to the door.
Police said that on their return, Offender 2 removed his costume and was wearing grey tracksuit pants with a blue stripe and a blue hoody.
Police are urging those with more information, particularly those who know of a costume party in the area of Emerald at the time, to contact Crime Stoppers on 1800 333 000 or make a report online at https://bddy.me/3br7KVz.