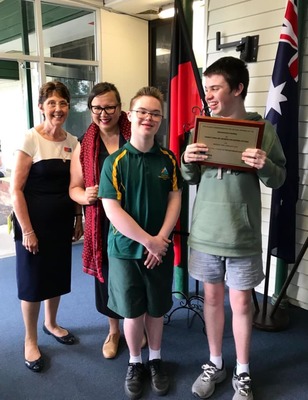 It's out with the old and in with the new at Mount Evelyn's Yarra Ranges Special Development School, with the schools foundational relocatable classrooms being carted away one by one to make way for long-awaited modern and functional facilities.
Having made-do with the same unsuitable buildings for 35 years, the school celebrated the opening of its brand new administration space on Monday 24 February – the first of a planned $4 million in upgrades to completely rebuild and revamp the school.
The $1.11 million upgrade includes a new reception area, staff lounge, offices and toilet facilities.
Principal Janet Taylor told the Mail the newest addition to the school was amazing after what they have been putting up with.
"This is our first true bricks and mortar building. The old administration building was probably half the size, very congested and difficult for staff and families to move through. It was relocatable so parents with children and students in wheelchairs struggled enormously," she said.
"The new building has a beautiful wide opening so there is ease of access and it is so much more welcoming.
School captains Daniel Carter and Tom Moxey and school secretary Devon Brown welcomed Member for Eastern Victoria Harriet Shing to the school on Monday 24 February for the official opening.
Ms Shing joined in on morning assembly alongside Mr Anthony Raitman of the Victorian Legislative Council, as well as students, parents, colleagues, project builders and architects where she unveiled a plaque to mark the formal opening.
Ms Shing said Labor is ensuring that local students across the Ranges have facilities that are modern, accessible and fit for purpose.
"This investment to improve facilities and classrooms at the Yarra Ranges Special Developmental School has made a huge and very positive difference to the everyday lives and achievements of students, staff and teachers," she said.
The upgrades form part of the Labor Goverments $6.1 million in funding to deliver more than 1,400 school upgrades and support over 7,500 construction jobs for Victorians.
According to Principal Janet Taylor, the school is now looking forward to the next build.
"This is the start of a whole school rebuild. This was project one, project two will be the junior buildings which have just gone to tender, and project three is in the planning stage. Exciting is an understatement," she said.