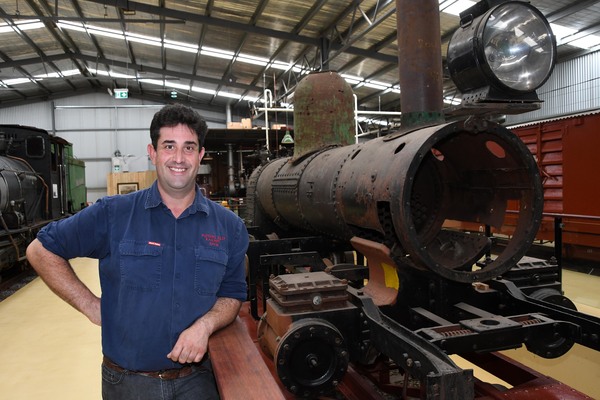 Puffing Billy Railway now brings even more rail history to life with its highly anticipated new Menzies Creek Museum now open.
The historic museum, which covers a space of 1160 squares and houses over 80 exhibits, officially opened to the public on Monday 24 February.
Amongst the significant exhibits are rare operational steam and diesel locomotives, carriages and a rail tractor.
Adding to the atmosphere, the museum also features an operational boiler house that services steam engines, fluid pumps and 500 break horsepower generators.
A themed children's play area and the Little Toot Caf¨¦ provide space to sit down, relax and await the 30-minute train journey back to Belgrave.
Museum manager, David Baker, who started at the railway as a volunteer in 1993, said the museum project has been a huge undertaking over a 10-year period.
"The Menzies Creek Museum was originally established in the early 1970s, as a partially sheltered, outdoor museum," Mr Baker said.
"The original museum displayed many of the same exhibits we have in the museum today, however not a lot was known about their background and there was very little interpretation.
"The museum closed in 2003 as the structure was in need of update and repair. It sat idle for a number of years while we worked out the best way to proceed, and in 2010, the first sod was turned to create the new museum which stands today."
Mr Baker said it has been a long process to get the doors opened, with thousands of hours from staff and volunteers going into researching each item to discover their stories.
"Most of the items on display were acquired in the 1970s and 1980s and predominantly tell the story of industrial Melbourne from the 1800s up to the modern day," he added.
"As we researched each item, we came across some great stories about where they came from and what they were used for. It was a fascinating process and a huge step forward in the preservation of this part of rail history.
"We have now documented all this information and incorporated it into the museum experience, making it more interesting and educational for visitors."
With a big vision for the museum, the museum committee will be adding more audio-visual and interactive experiences over time.
"We are also working on a road/farm steam area to highlight what life was like alongside the narrow gauge," Mr Baker said.
"We have a steam tram and steamroller that we are working to get on display and are always looking out for items of significance to expand our collection."
Mr Baker said his favourite item in the museum "has to be" the climax loco.
"It is a unique locomotive as it was built to run on undulating, imperfect track at low speed with lots of power," he explained.
"It is also the only intact climax out of 50 that were built for the Victorian railways, and the only one built for the Erica State Sawmill, so it is pretty special."
A special train service to Menzies Creek has been introduced to cater for visitors wishing to experience this unique station stop.
Passengers can enjoy a 30-minute journey from Belgrave, passing over the historic Monbulk Creek trestle bridge and through the forests of the Dandenong Ranges, before arriving at Menzies Creek to visit the Museum.
The return train ride departs 45 minutes later with Museum entry included in the fare.
Passengers taking the longer ride from Belgrave to Lakeside can also enjoy the museum as part of their fare, by making their way to the museum by car after their train journey concludes.
Those wishing to visit the museum only can drive to Menzies Creek Station and purchase museum entry upon arrival.
As an opening special, entry to the museum is free of charge until 31 July. After this date, entry will be free with a train ticket for the same day, or $10 per adult, $8 concession, $7 children and $30 for families (two adults and four children) for those not travelling on a train.