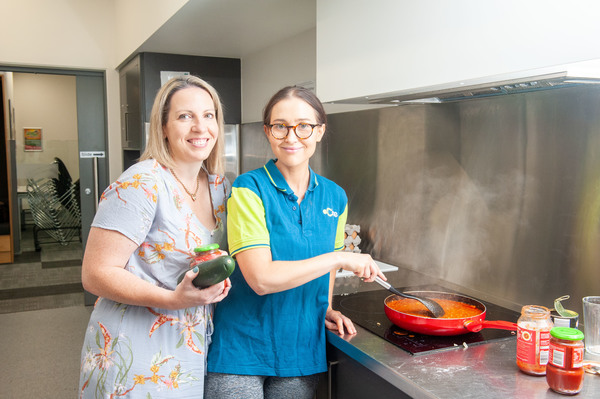 As stock-piling and stripped supermarket shelves continue amid the Covid-19 outbreak, a group of volunteers have come together to cook and deliver free meals for those in need across the Yarra Ranges.
The group has set up in the Chirnside Park Community Hub and since being established, have been inundated with support and donations from the community.
Cire Services' Chrisi Reardon initiated the idea after seeing reports of people unable to get food and supplies due to panic buying.
She began batch cooking and posted on social media to connect with people in need.
"I was immediately overwhelmed by how many people needed help and also by how many people were so beautifully supportive," she said.
"People were driving to the house just to pick up a bag and drive it from Kilsyth to Dandenong just because they wanted to make sure the food got to someone that needed it."
But as the information about the initiative spread, the demand became too much for Ms Reardon to cater for on her own.
She sent an email to her manager at Cire Services and they organised for her to set up in the Chirnside Park Community Hub, which is run by Cire.
Since then, a group of community service students and other volunteers have also pitched in to help cook meals.
They have been cooking for people recovering from surgeries and sent straight into self-isolation, parents juggling hospital visits, the elderly, large families who are stretched too thin to stock-pile, those who are immuno-comprimised, those who lack transport and those with disability.
Community Hub manager Jenelle Strachan said the decision to open up their kitchen doors was a "no brainer."
"It's fantastic I mean we're here to support the community and the fact that we can do something amazing and help people here is great," she said.
Ms Reardon said she has been overwhelmed by the amount of community support since she first posted the idea online.
"We have a pensioner, 70 years old, disabled and desperately in need of some food but insisting on giving us some rice back in return that she has in her pantry because she wants to contribute in the way that she can," she said.
"This was just me in my kitchen and it couldn't have gone as far as it has if I didn't have that support because I couldn't have done that by myself.
"I put this little post up and I'm still involved but I feel like the community has almost taken it over and made it theirs.
"People just want to be involved, they want to be part of it. From my experience people always want to help."
Meanwhile Ms Strachan said the Community Hub will continue to support locals during the coronavirus crisis.
"Get involved, the community hubs will be open through this crisis until we're told we have to close," she said.
"We have a place for people to come so if they do want a little food hamper come in and see us.
"We have a computer so if they need to go online and can't do that at libraries anymore they can do it here."