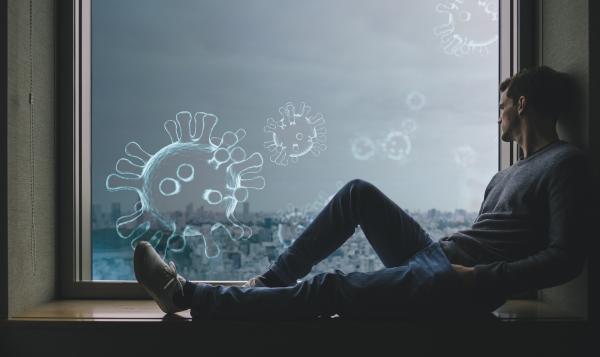 With Victorians quickly needing to adjust to Stage 4 Covid-19 restrictions, Australian Red Cross is reminding people of simple ways to stay resilient during the pandemic.
The Red Cross' national resilience adviser, John Richardson, said it was normal to experience anxiety and frustration with another round of restrictions.
But he said the reminder that staying home will stop the spread and save lives helped put things in perspective.
"Put your pandemic plan in action. Find out where you can get tested, work out how you'll get groceries and who will help you," Mr Richardson said.
"Now is also the time to start having good upfront conversations with people at home on how to handle the stress of being cooped up as weeks turn into months.
"Setting simple goals with realistic timeframes, and making an effort to connect with others – especially if you live solo – will help. If you are in need of a social chat, sign up for a free daily phone call from a trained Red Cross volunteer.
"Embrace self-care, and stay away from compulsively watching the news. Stay up to date, but focus on what you can control. Exercise and eat well. These simple things will help you maintain good mental health."
Mr Richardson encouraged people to reach out to young people who have been hit particularly hard by the pandemic.
Those who can't access essentials like food and medicine, or are facing issues such as family violence can contact the Victorian coronavirus hotline on 1800 675 398 for direct assistance.
Australian Red Cross tips:
Put a pandemic plan in action
Get in the know
If you develop symptoms of ovid-19, however mild, get tested straight away. Stay at home until you receive your test result.
Get connected
Think about your key support people.
Identify who you need to notify if you are isolating or test positive for Covid-19.
Identify who might be able to help with practical things like shopping or picking up the kids.
Identify who might help you in other ways. Who can you talk to or video chat with?
Look through your phone contacts to jog your memory.
Need to chat? Call Covid Connect service to receive a daily call from a trained Red Cross volunteer or contact the Victorian coronavirus hotline (1800 675 398) to access support and information.
Get organised
Make a list of what needs to happen if you have to isolate at home.
Everyday essentials – how you get groceries delivered, prescriptions filled, etc.
Family – picking up children, looking after pets, supporting relatives.
Living space – how to isolate from others in your house if needed.
Mental wellbeing – how you will stay entertained, stay calm and manage stress.
Personal safety – find a support service if you don't feel safe in your home.
More information
Find out more tips on surviving the lockdown, from masks to a pandemic plan, at redcross.org.au/covid19
Register for a free Red Cross daily phone call online redcross.org.au/covidconnect or call 1800 733 276. For urgent assistance and to access support and information, contact the Victorian coronavirus hotline 1800 675 398.
Listen to Red Cross' Covid Collective Podcast to help you and those around you stay safe, physically and emotionally well.