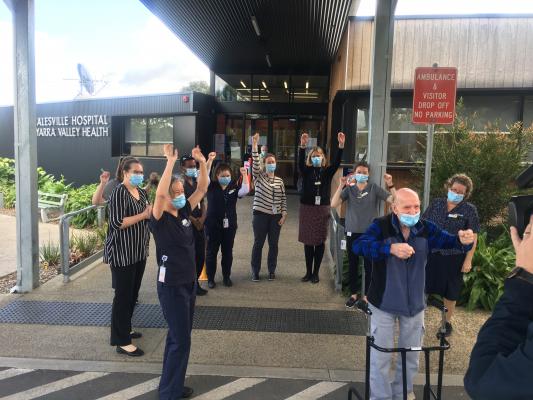 Ninety-five-year-old Vic Cornell has finally left Healesville Hospital following his successful battle with Covid-19.
Mr Cornell tested positive for coronavirus in July and has since been in numerous hospitals throughout the outer east.
During his recovery from the virus he also broke his hip, meaning he was spending his days in Healesville until finally being released early last week.
All up, the retired tennis coach spent about 10 weeks in hospital alongside his partner, Jean, who also tested positive for coronavirus in July but was released with Mr Cornell.
The pair both returned multiple negative Covid-19 tests in August.
Mr Cornell told the ABC's Drive program that he believed it was his "spirit" that helped him survive the virus.
"We don't live for ourselves, we live for others. I had Jean here and I had to look after her and she needed me, and my kids do," he said.
"I think it was a contribution of a lot of people, the nurses here and the hospital were very good. I was very blessed with so many people looking after me and wanting me to live.'
Mr Cornell said he was "very apprehensive" about going back home but was looking forward to getting back to normal life.
"We've been away 10 weeks, I've never suffered so much in all my life," he told the ABC.
"I thought I was gone, I thought I was going to the maker, it didn't happen. There must be a reason why I'm still here.
"I didn't realise how well I was living until I was taken away…unfortunately to us all we don't realise what we've got until it's gone.
"Just living the way I want to live, in my own chair, watching the television, getting friends in, normal things, just having a meal with somebody and just living."