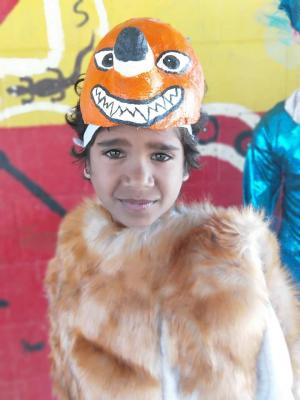 A local charity is participating in a worldwide movement that supports non-for-profits by asking people to give money or time.
The Storey Players works to empower disadvantaged kids through drama workshops and storytelling activities, to strengthen their self-confidence and increase their literacy skills.
Despite being based in The Patch, The Storey Players does most of its work with Indigenous communities in outback Queensland and the Northern Territory.
The organisation is preparing to participate in Giving Tuesday, an initiative that sees people give money, time or something else to support various charities or organisations.
"This year we want to use Giving Tuesday to raise awareness towards the situation of Indigenous kids in remote communities," The Storey Players president Simon Storey said.
"What we're looking for is for people to take time, go to our Facebook page and like it and follow what we do, so they can see what goes on and be aware of what's out there.
"It's about raising awareness so they can see the work that we do and the effect that it has on the children for the future."
The organisation currently has about 180 Facebook followers, but Mr Storey said he is aiming to increase that to 1000 for Giving Tuesday.
"It's a big jump but we believe if people were to give 10 or 20 minutes of their time every Tuesday of December to like our Facebook page, read our stories and share that with other friends…it would be an enormous help," he said.
When heading to The Storey Players Facebook page, visitors will get a sense of the important work the organisation does.
"There is a fascinating world out there in remote Australia, that not many people get the opportunity to see. By supporting our organisation they will be able to take part in that and contribute to improving Indigenous literacy in remote areas," Mr Storey said.
"Because those places up there are very remote…they really don't get very much input as far as drama.
"For most young kids living in an urban environment, like here and even other country towns, there is a drama teacher and they have access to drama. It is considered a normal part of school.
"Because they don't have access to that (in remote communities) we thought that's where our passion lies, in making sure children have access to drama."
Mr Storey added that the children his organisation worked with faced "quite serious challenges" due to their isolation.
"These communities, they're quite isolated, there's really not much to do as far as extra-curricular activities," he said.
"The teachers in the schools often leave after two years. So you might have a teacher that stays there for two years, they get to know the children and then their contract ends and they move to the city.
"It means the children often have a very disturbed and disrupted education.
"Which of course is another thing that doesn't happen in most schools around urban areas, and even regional areas, only in the remote areas it becomes a different story."
To find out more or provide support, visit The Storey Players on Facebook or thestoreyplayers.com.