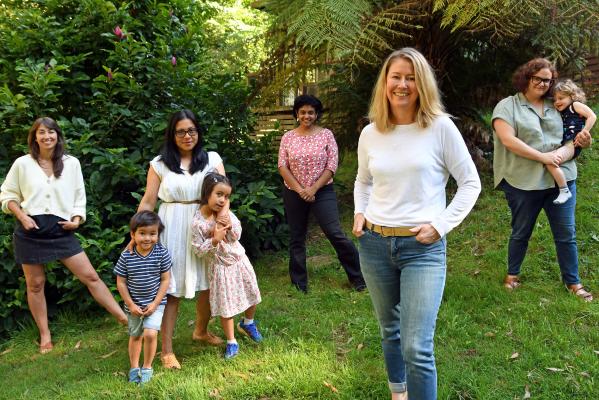 Being a mum can be isolating and exhausting at the best of times, let alone during a pandemic.
For new mums in 2020, there were no mothers group meetings, and no face-to-face contact with the maternal child health nurse to ask all those burning questions. Even grandparents and extended family missed out on those ever-so-cute first cuddles and pictures taken at the hospital, some waiting months before meeting the newest addition.
And for existing mums, the lack of social interaction, distance from family support and sheer uncertainty in the world around us while trying to calm frightened children was surely enough to send anxiety levels through the roof.
These challenges were all too real for mums across the Dandenong Ranges during lockdown, with local Facebook group 'Mums of the Hills' reaching its highest levels of engagement as mums reached out to one another via the social platform.
But Founder of Mums of the Hills, Belinda Young, says coming out of lockdown has also proved difficult, describing it as similar to a "reverse culture shock", a feeling usually associated with returned travellers.
"One of the issues coming out of lockdown was that reluctance to meet people. You are exhausted, without the energy to meet new people and anxious about the pandemic situation. Mum's often meet people via organised events and playgroups, these connections may be lost or very difficult to restart again given the current restrictions and general COVID concerns" Ms Young said.
In an attempt to bring mums back together and improve mental health, Mums in the Hills has collaborated with Olinda Community House to create a series of events for mums and grandmothers to attend.
The events, made possible through a VicHealth Reimagining Health grant, are split into categories with three main aims: to reflect, to reconnect, and to refocus.
To reflect, Mums of the Hills will be running reflective writing workshops, post-natal classes and women's circles.
"Women's circles are where women all come together to be heard, held and be seen without judgement. Our circles are all about reflecting on what we have endured and through various activities such as journal writing and meditation to give a sense of empowerment and move forward positively," Ms Young explained.
To reconnect, a series of social events including runs, pram friendly walks, coffee catch-ups, playgroups, movie nights and clothes swaps will take place.
"One of the bigger things we are doing are our refocusing seminars. Everyone has just been so slammed with Covid that we are very lucky we have not had an intense bushfire season. Given the anxiety over the 2019/20 Black Summer bushfires and then the lockdowns, I just don't think people have really considered what a bushfire during a Covid situation would be like," Ms Young said.
Mums of the Hills are organising three seminars focusing on bushfire and natural disasters, which will involve the CFA, local police, Yarra Ranges Council, Emerald Community House and experts in disaster insurance and post-disaster family support.
"We realised around August last year when we had that massive storm and many lost trees or went without power for six days, that a lot of people were traumatised. I had a lot of mums contacting me looking for psychologists and counsellors as their children were suffering from trauma. And not just trauma from the storm but going back to school and the pandemic itself. Knowing the signs and how to prepare and support them is useful to know", Ms Young said.
"When preparing for bushfires up here, the CFA do a fantastic job at educating us on how to prepare our properties and what to do. However, in terms of the logistics of preparing, specifically on parenting and community connectedness, this is something that needs to be discussed too. Basic information to do with childcare, emergency contacts and community support networks is so important. It's that basic bushfire preparedness for parents that we also want to discuss while our bushfire threat is lower," she explained.
The group is also providing a seminar focusing on disaster insurance and local crime, where questions about what may or may not be covered in a disaster will be answered.
"We've learnt that there are certain things we can't control in the pandemic, but these things we do have control over. We can look at our policies and do all those checks," Ms Young said.
Ms Young said the different events and initiatives "aim to help the mental health of mums and our local community to help them regain that strength and connection they have lost" during lockdown and hopes to bring the social connection built in the online group into the place-based community.
For more information on dates and events, visit: https://www.eventbrite.com.au/o/mums-of-the-hills-32460740665 and www.facebook.com/mumsofthehills.