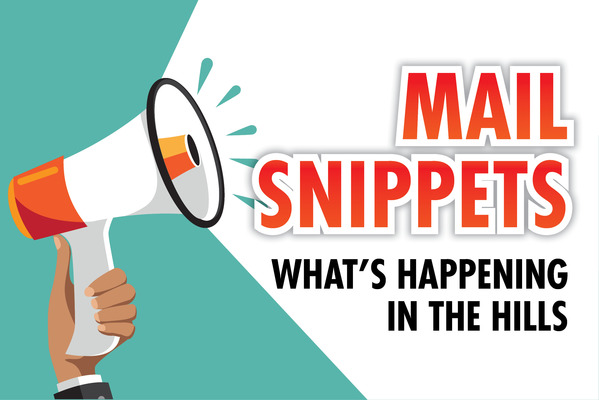 Walking and adventure group
Mount Evelyn Walking and Adventure Group are looking for new members.
The group meet regularly for a range of activities, including kayaking, cycling, yoga, hikes, forest walks, swimming and some fundraising.
The group go swimming on Tuesdays and walk Mount Lofty on Thursdays. They also walk Lilydale Lake together on Saturday mornings.
The group provides a place for the community to come together and enjoy likeminded activities. You don't need to be an expert at anything to join.
All events are BYO equipment.
If interested in joining, phone Elly on 0402 429 405.
Men wanted
Emerald Men's Shed is seeking new members to join them at their new location at the Emerald Hills Hub.
Men of all ages are invited to come along and participate in making and repairing various things to give back to the community.
The men meet at the shed on Tuesdays, Wednesdays and Thursdays between the hours of 9am and 4pm and on Saturdays between 9am and 1pm at the Hills Hub, 400A Belgrave-Gembrook Rd, Emerald.
No experience necessary, come along and learn at your own pace while enjoying a cuppa and some social interaction with like-minded men.
Contact Peter Bos on 0418 323 747 for more information on when the shed will be hosting its next open day orientation or email mensshedemerald@gmail.com.
Open garden
The Nook, a stunning cottage garden in Monbulk, will be open to the public on Saturday 13 March and Sunday 14 March.
Members of the public are encouraged to come along and take in the scenery at the romantic, colour-filled garden created by owner Val Jacksona and her late husband Don between 10.00am and 4.30pm.
The Nook was featured on Gardening Australia in 2010.
Entry is $10, students $6 and under 18's are free.
Tickets must be booked and pre-paid online via TryBooking at https://www.trybooking.com/events/landing?eid=712855.
Members wanted
The ladies at Belgrave VIEW are looking for new members.
The group meets on the first Thursday of each month at the Monbulk Bowls Club where an interesting guest speaker is usually present and a delicious lunch is enjoyed. The ladies welcome new members to these lunch time meetings. Raffles are conducted at the meetings, with all monies donated to The Smith Family Childrens' Education Charity, which helps disadvantaged
young Australians to succeed at school so they can create better futures for themselves. Belgrave VIEW also sponsor 4 Learning for Life Students.
Ladies who would like more information about VIEW please phone Jillian 9755 1618, bookings essential.
Tech sessions
The Lab Network runs dedicated tech club sessions for young people with autism in Ferntree Gully each week.
The sessions run on Wednesdays from 4-6pm for kids aged 9 to 15 at 22 Willow Rd, Upper Ferntree Gully.
The cost is $25 per session ($20 concession) payable by the term.
To register your interest visit https://thelab.org.au/join-a-lab/ and select the Ferntree Gully Lab from the list at the top of the child registration screen.
Contact No: 9758 7081.