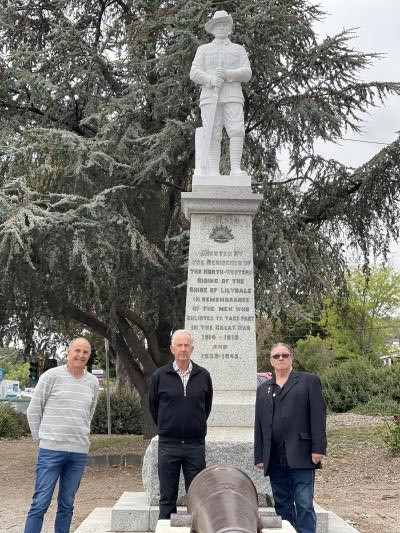 The soldier has returned to the top of the Lilydale Main Street War Memorial after Lilydale RSL members pushed to complete the project envisioned by late club presidents Don Parsons and Paul Payne.
Lilydale RSL's president, Bill Dobson said Mr Parsons and Mr Payne, who both sadly passed away last year, had done "a lot of preliminary work" in getting the project happening.
"We had to get a style for the soldier from somewhere, so they went down to Bonnie Doon to base it off that one. It was quite a bit of work involved, this new one was made by a sculptor and is made out of marble so it will never fade away," Mr Dobson said.
Mt Evelyn RSL secretary Anthony McAleer said the original Lilydale War Memorial was unveiled to the community in May 1922 by the Governor of Victoria, the Earl of Stradbroke. The original design was a concrete statute of an Australian WWI soldier on top.
According to Mr McAleer, the statue did not last long, with the rifle coming off and the figure falling apart to such an extent that it was agreed to take it away completely in the late 1930's.
Mr McAleer said there was "talk" over the years about replacing the statue but nothing eventuated until 2018, when then president Don Parsons pushed to have the statue reinstalled and began working with Victorian stone mason James McAuley to come up with plans to reproduce the soldier in Carrara marble with a base of Harcourt granite.
Mr McAleer said the project cost $53,000, with the sub-branch receiving grants from the Department of Infrastructure, Transport, Cities and Regional Development and Department of Premier & Cabinet.
The vision of Mr Parsons and subsequent president Paul Payne has now officially come to fruition after the solider was erected on Wednesday 24 February with the help of large machinery.
"It's in its place now and is really noticeable as you drive up the road from Lilydale. We have had a lot of fantastic replies from people that are delighted that it is finished which is wonderful," Mr Dobson said.
"It was very important that we did this because those two blokes (Parsons and Payne) probably had 30 years experience with the RSL, plus a lot of great friendships. They were our two stalwarts of the club and revered mates, so we had to follow through and make sure this happened," he said.
Lilydale RSL secretary Chris Newell said the project had been a "long time in the works" and hoped the club had "done Don proud".
Vice president Terry Hickey said the club would like to see this as "the start of a whole lot of renewal of the RSL's activities in the community".
"We'd like to attract people in the community who might be interested in getting involved, we've been quiet for a fair while so we are keen to regenerate a few things and this is a great beginning," he said.