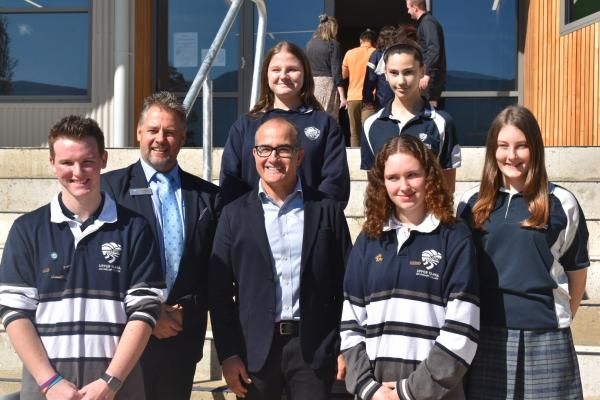 Monbulk MP and Acting Premier James Merlino toured Upper Yarra Secondary College's new STEAM pavilion on Friday 26 March as the school celebrated the completion of stage one of their master plan works.
Mr Merlino took a guided tour of the new facilities by Upper Yarra's junior leaders and principal Scott Tully.
"This is a project I've been really heavily involved in and am quite excited about," Mr Merlino said to the Year 8 cohort.
"There's a lot more that will be happening, as you go through over the next couple of years there will be a lot more demolition and a lot more building of new buildings. About 16.3 million dollars has been invested into this fantastic school.
"It's about delivering state of the art science and tech facilities to really engage in your learning. It's great for you and great for your teachers… It feels and it looks special."
Architects Harrison and White were responsible for designing the new STEAM (Science, Technology, Engineering, Arts and Math) pavilion. Architect Gina Kenah said the works incorporated into the school's identity of the outdoor environment and the impressive landscape that surrounds the school.
"We wanted to increase that with the new building, instead of looking inwards, we wanted to look outwards to their landscape," she said.
"The building itself has the big open spaces and the learning commons that allow that connectivity and breakout spaces and all those ways of working."
The works include an area where students and staff can take part in a smoking ceremony, which was used to welcome and celebrate the opening of the facilities.
The school's original science labs were over 50 years old as Mr Tully said he was "absolutely rapt" to see the opening of the new pavilion.
"It's been a long time coming to have something so fantastic and modern, not only for us as a school, but for the community," he said.
During Mr Merlino's tour, keen students shared what they liked most about the new buildings and classrooms and showed knowledge of the inner workings of the construction.
"We've tried to include the students throughout the whole process," Mr Tully said. "They're the ones who use it, they're the ones who are housed in it, it's their classrooms. So we talked to them about what they like and don't like so they should know what's going on probably better than most of us.
"It allows us to change our teaching to be more flexible, so we're going from a traditional box styled classroom to a much more flexible open and modern facilities which allows us to change our teaching as well."
Mr Tully said the master plan to be completed in years to come will make for a "complete modernisation" of the Yarra Junction school.
The upgrade works form part of the state government's Lilydale and Upper Yarra Education Plan where Lilydale High school and Lilydale Heights College all featured in major upgrades in a boost to Yarra Valley public schools.