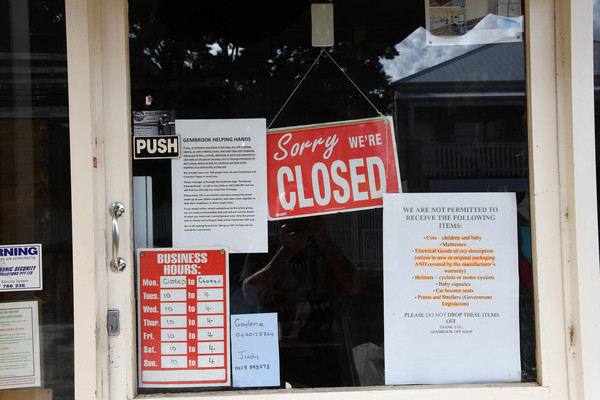 For the fifth time in 18 months Victoria has entered a lockdown, with students returning to home learning and non-essential businesses forced to close their doors.
The snap lockdown saw iconic tourist destination Puffing Billy Railway close its doors yet again from Friday 16 July.
Those with tickets booked for the weekend were contacted to discuss alternative options.
"We thank you for your ongoing support and look forward to reopening soon," the tourist railway wrote on Facebook.
Owner of Emerald uniform store C-ME, Nicole Roberts, described the news of a fifth lockdown as "pretty scary".
Having opened in December last year, in between lockdowns, the new Emerald clothing store has had no choice but to learn to operate with the constantly looming uncertainty.
"We have had a lot of great support from the locals but whenever there is a lockdown we don't really get the foot traffic of people coming in to buy pants or work boots anymore.
"It's a flow on effect because sporting clubs shut down and everyone we do uniforms for, they're all in lockdown too, so they don't really need anything at those times," Ms Roberts said.
The uniform store supplies workwear and logo printing for businesses, hospitality, catering companies and local sporting teams.
Ms Roberts said people had enjoyed having a uniform shop in the Hills.
"A lot of people have come in not just to get uniforms but even tradies that need a high vis, they've said they are just so glad we are up here so they don't have to go down the mountain. Even through they go down for work they just want to get back up here out of the traffic," she said.
But speaking to the Star Mail on Friday, Ms Roberts said things had become "very quiet again".
"We had been looking at taking on a part-timer but have to keep putting that off because of these lockdowns. We don't want to start training someone and then we've got no work for them," she said.
She is hopeful the state or federal government will provide businesses with support if the lockdown is extended.
"If we don't get another grant it's going to make it hard because we've still got rent and other bills and not having trade coming through the door makes it hard. Everyone else is also feeling insecure about what's going to happen so they're holding off on ordering things as well.
"You just get to the stage where it's like 'here we go again'. We will just keep pushing through and hope to swim and not sink," Ms Roberts said.
Kallista Primary School principal Chris Finighan said for the most part, students are used to lockdowns now.
"I think they at least understand the routines so there is a little bit more familiarity, which helps them to be more secure. That's the positive side of it," Ms Finighan said.
"But I have to say, on the negative side of things, it's complicated for people because all families have different circumstances. If families have enough support or have friends and family that can support them, they might be OK, whereas others not so much. It's really about different strokes for different folks," shes said.
Ms Finighan said students began remote learning from Friday morning (16 July).
"Our skills are better and the school has been able to adapt and learn so hopefully that's helping kids to still engage with learning at home. Twice a day they can get on Webex with their teacher and that's really helpful for them to see each other's faces and connect," she said.
"The kids are learning some pretty tough life lessons. Some will be building up their resilience and ability to bounce back but others are struggling. I think we've all got adrenaline fatigue. I really like that Yarra Ranges Council has been promoting the Be Kind stuff because we do all need to slow down and be kind in these times," she said.
Ms Finighan said there is much teamwork going on behind the scenes with teachers and integration aids, as well as inter-school teamwork with primary schools across the Hills helping each other adapt.
"The schools up here all share things and really help each other, as do the teachers, there is a lot of teamwork going on. We have to be hopeful, flexible and creative," she said.