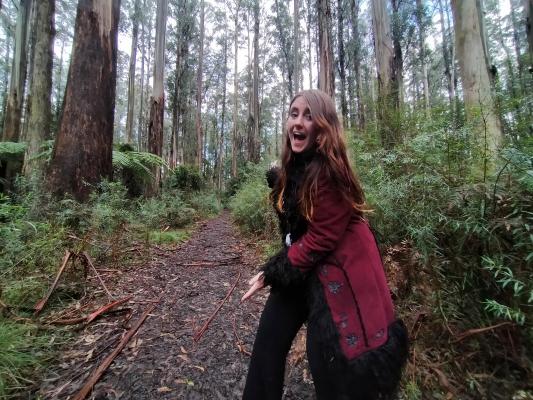 A Ferntree Gully woman passionate about boosting mental health has taken to social media in hopes of helping others find clarity through nature.
Zoe Amber Preston, 24, runs a Facebook and Instagram page called Mindful Adventures Australia, a wellbeing page focused entirely on ecopsychology and the connection between nature and mental health.
As a mental health support worker and psychology graduate, Zoe started the page in last April as an outlet and way for her to inspire others using her knowledge of ecopsychology.
"I'm really into a concept called ecopsychology which basically explores connection between humans and the natural world and how nature can improve our physical and mental health," Zoe said.
"I was trying to find a page about that and had no luck, so I decided to make my own. I just started sharing posts and it gradually turned into a page where I share tips on mental health and how you can incorporate nature into everyday life," she said.
Zoe now hopes to educate others on the healing powers of the great outdoors.
"I do a lot of adventuring, so a lot of the posts are recaps of my adventures and the lessons I've learnt through hiking, camping and immersing myself in the natural world," she said.
With her Instagram account now sitting at just under 1,000 follows, Zoe said the response has been "surreal".
And with the state currently in and out of lockdowns, Zoe's advice is to "make the most out of the two hours of exercise".
"I know it can be really difficult, especially on rainy days, but it really does make a difference getting out amongst the community and releasing those endorphins," she said.
"I know some people are nervous to leave the house, but I would one-hundred percent recommend opening the curtains to let some light in. It seems so simple, but opening the curtains lets natural light in and increases positivity. I'd also recommend cuddling a pet, or bird watching, because animals have been known to increase positivity," she said.
"I personally like getting essential oils from eucalyptus and lavender plants and other nice plants in nature because sometimes the smell reminds you of nature and can help release those good hormones," she said.
While Zoe feels privileged to live within 5km from the Dandenong Ranges National Park, she knows not everyone has that luxury, and has created a list of her favourite walks across the Yarra Ranges, Knox and outer-eastern areas in one of her posts.
"There are also a lot of parks just in the suburbs, I have been looking on council websites and they have heaps of resources of parks available," she said.
According to Zoe, the benefits of nature are endless and include a better nights sleep, with natural lighting great at regulating the body clock.
"Nature also reduces stress by lowering cortisol in the body, and can reduce rumination and depression and anxiety by lowering cortisol levels. When out in nature you also get increased serotonin and dopamine, which is associated with joy and pleasure," she said.
Getting outdoors is also said to improve concentration and memory, with outdoor exercise and meditation helping to increase feelings of well-being and happiness through increasing serotonin, Zoe says.
Here's a few things you can do in lockdown to boost mental wellbeing:
Look outside at nature or bird watch.
Bring flowers or plants into your home – pick up a bunch of flowers or some indoor plants next time you're at the supermarket.
Watching the sunset or the clouds outside.
Gardening – buy a bonsai kit or some vegetables and tend to them each day.
Head out for a walk with one friend (as allowed by the restrictions) – being around people releases oxytocin and feeling included is great for mental health!
Open the curtains – sunlight boosts positivity.
Make the most of the two hours allowed exercise.
Zoe can be found on Instagram at @mindfuladventures.australia or on Facebook by searching Mindful Adventures Australia.