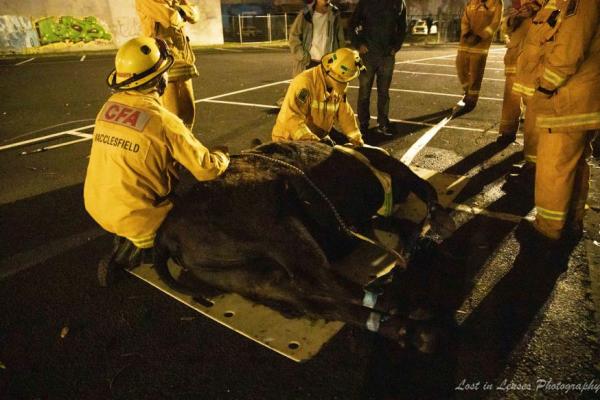 Members from Upper Ferntree Gully and Macclesfield fire brigades were called to Willow Road in Ferntree Gully just before 1am on 25 November, after a trailer rolled at a roundabout earlier in the night.
An 80-year-old Ferntree Gully man was driving his blue Ford Falcon sedan along Glenfern Road when he approached the intersection of Brennock Park Drive around 6.40pm.
As he entered the roundabout the trailer he was towing, with three heifers on board, rolled.
All three animals escaped from the trailer and began roaming the local streets for a number of hours.
"There were three cows which were all in calf, and they just did a runner," Upper Ferntree Gully captain Peter Smith said.
"They got one very quickly but the other two were hiding down by the football oval and finding two black cows in the middle of the night is not easy."
CFA crews led an operation with the help from Knox Police, Fire Rescue Victoria, SES, local vets, vet nurses, farmers and Council Rangers.
A few mishaps and scares occurred throughout the rescue, causing the heifers to retreat and run.
Animal rescue crews from CFA's Macclesfield Fire Brigade brought specialized equipment to help load the hefty heifers onto a trailer.
"It took a dozen of us to lift the first cow onto the trailer which was then taken back to the farm.
"It came back an hour later for the other one that was still in the car park.
"It was great to see how the vets and the Macclesfield fire brigade at it, as the way they go about these operations was so professional and respectful to the animals."
Two of the heifers were located in Kings Park and the final heifer was located in the rear yard of a property on Dawson Street.
They were safely transported home.