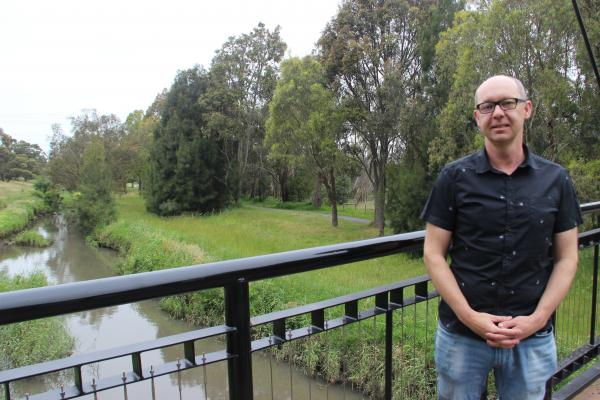 By Parker McKenzie
The First Friends of Dandenong Creek have won a Premier's Sustainability Award for their short film The Eels of Dandenong Creek.
The community group won the healthy environment community champion category in the 2021 awards for raising awareness about how pollution has eliminated a large portion of the short-finned eel population in the creek.
The First Friends of Dandenong Creek president Anthony Bigelow said he was humbled by the award.
"It was never our intention to aim for awards, the intention was to educate people and the wider community," he said.
"When you are trying to share a complicated message, you have to think about trying to deliver it in a way that is accessible.
"We had pollution experts, an expert that spoke about the life-cycle of the eels and we had Uncle Dave who spoke about the indigenous connection too."
The eight-minute and 27-second film explores the life cycle of the eels who live in the waterways around Victoria and their importance to the ecological health of the creek.
The Dandenong Creek's headwaters are in the Dandenong National Park near Olinda and it runs throughout south-eastern Melbourne.
"We've got all these ecological changes happening because we've lost the path of caring for country," Uncle Dave said in the film.
"Just think about what happens downstream, what happens tomorrow."
The group was founded in 1999 and provides stewardship for a 10 kilometre stretch of the creek from the base of the Dandenong Ranges into Vermont.
Mr Bigelow said the group will continue to advocate for the protection of the creek and he hopes the film has helped raise awareness about pollution issues.
"One of the things that we are doing is we've got real-time sensors in here and Melbourne Water has now agreed as of yesterday to continue funding them for another two years,"
"If a pollution event comes through the sensors will look for changes in conductivity or temperature and stuff like that, it'll then send out alerts."
The Premier's Sustainability Awards "recognise and celebrate Victorians who are leading the way to a sustainable future."
The winners of the awards were announced at an online award ceremony on 23 November.
The film has been viewed over 30,000 times since it was released online.
Mr Bigelow said the award and success of the film will contribute to the group's advocacy for the creek.
"Hopefully because of the exposure that the film has got those conversations with counsel and the EPA will be easier," Mr Bigelow said.
"We can't resolve all the problems, but we can start the conversation. I think that that's key to what the film is, it's about starting the conversation."